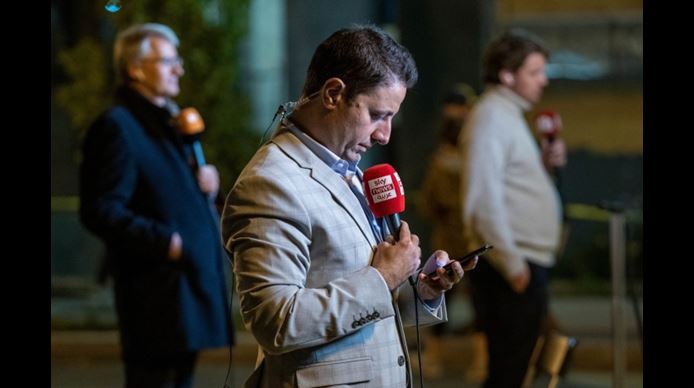 Nov. 6 (UPI) — The tight presidential race between Donald Trump and Joe Biden shifted in Pennsylvania and Georgia on Friday and expanded in Nevada as the former vice president keeps surging ahead in vote counts.
In Pennsylvania, Biden now holds a lead of about 5,500 votes, according to state figures updated early Friday.
Biden outpaced Trump by about 23,000 ballots in the latest count from Philadelphia, CNN reported.
Before the update, Trump had led by about 18,000 votes in a race that's been steadily narrowing since Wednesday. At one point on Election Night, Trump led in the state by more than a half-million votes.
Biden's electoral count remains at 253 to Trump's 213, according to projections by CBS News and CNN, NBC News. It takes 270 to win election.
A total of 71 electoral votes were still up for grabs in six states early Friday — Pennsylvania (20 electoral votes), Georgia (16), Arizona (11), North Carolina (15), Nevada (6) and Alaska (3). There is also one electoral vote in a Maine district that has not been projected.
In Georgia, Biden took a lead by almost 1,600 votes after officials updated their count early Friday morning.
Trump, who has made accusations of voter fraud without any supporting evidence, would need to secure both Georgia and Pennsylvania to win re-election.
"We're not seeing any widespread irregularities," voting system implementation manager Gabriel Sterling said. "We're investigating any credible accusation with any real evidence behind it."
Georgia Secretary of State Brad Raffensperger said Friday afternoon that a recount is all but certain.
"The final tally in Georgia at this point has huge implications for the entire country," he said. "The stakes are high and emotions are high on all sides. We will not let those debates distract us from our work. We will get it right, and we will defend the integrity of our elections."
In Georgia, a recount is mandatory if the difference between the candidates is 0.5% or smaller. Biden presently has a lead of less than 0.1%, with a few thousands ballots left to count.
Only about 4,000 votes remain to be counted statewide, Sterling told reporters. About 3,500 of those votes were in Democratic-leaning Gwinnett County in suburban Atlanta, he said.
In Nevada, Biden nearly doubled his lead over Trump in new votes tabulated Friday.
Biden, who began Friday with a lead of about 11,000 votes, increased the margin to more than 20,500, according to the updated official numbers.
Nevada began Friday with more than 190,000 ballots remaining to be counted — 90% of which were in Clark County, which contains Las Vegas and is heavily Democratic.
In Arizona, Biden's lead shrank slightly on Friday morning after ballots from Maricopa County were added to the count. The lead dwindled by about 3,500 votes, updated figures showed.
The data showed Trump won about 51% of the new votes, but was below the threshold needed to close the gap — with an estimated 220,000 ballots remaining statewide.
Arizona Secretary of State Katie Hobbs said Thursday that final results in the state could be posted as soon as Friday.
In North Carolina, Trump holds a lead of about 80,000 votes, according to official state data.