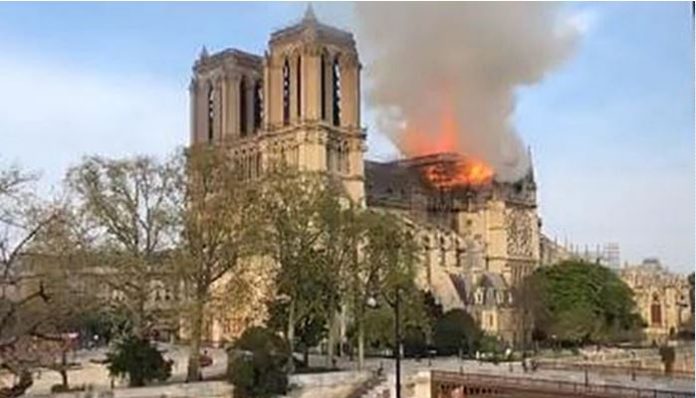 PARIS, France, April 15, 2019 (Gephardt Daily) — Crews are battling a massive fire at the iconic Notre Dame Cathedral in Paris Monday.
"Notre Dame fire in progress," police said on Twitter. "Avoid the area and facilitate the passage of emergency vehicles and intervention of the police."
A journalist with France 24, an international news channel based in Paris, tweeted: "The roof has entirely collapsed, there are flames coming out the back of the cathedral as if it was a torch." A follow up tweet said: "It's not under control at all at this time."
The tweeted videos below are used with permission of the shooter, Shiv Malik (@shivmalik).
Notre Dame, Paris, is on fire and it feels like the end of the world. pic.twitter.com/qYYk7ewipq

— Shiv Malik (@shivmalik) April 15, 2019
The spire of the Cathedral appeared to collapse around 12:08 p.m., seen via a live stream.
Paris Mayor Anne Hidalgo tweeted at approximately 11:30 a.m., or 7:30 p.m. Paris time: "A terrible fire is underway at Notre-Dame Cathedral in Paris. The fire brigade is trying to control the flames. We are mobilized on site in close connection with church authorities. I invite each and every one to respect the perimeter of security."
— Shiv Malik (@shivmalik) April 15, 2019
The cathedral, which dates back to the 12th century and is famous for featuring in Victor Hugo's classic novel "The Hunchback of Notre-Dame," attracts millions of tourists every year.
It's not known if anyone has been injured, but reports indicate that pieces of the church, burning embers, and ash are falling from the Cathedral.
The roof is now gone. pic.twitter.com/YVvRaOVPXz

— Shiv Malik (@shivmalik) April 15, 2019

The cause of the fire is under investigation; reports say construction work has been taking place at the site.
Gephardt Daily will have more on this developing story as information is made available.