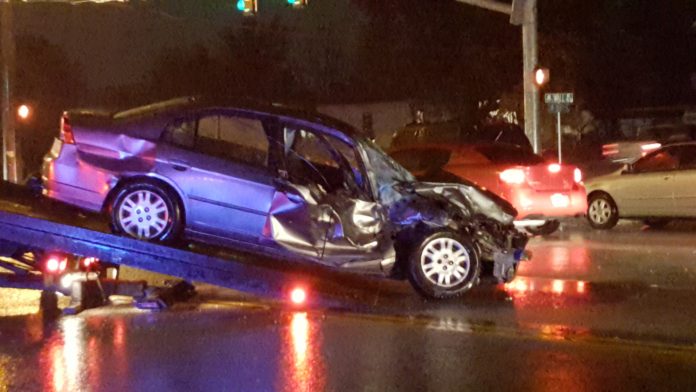 WEBER COUNTY, Utah, Oct. 29, 2016 (Gephardt Daily) — Whether it was the rain and wet pavement, or just people in a hurry to start the weekend, there was no shortage of traffic accidents Friday in Weber County and the surrounding area.
A crash at Harrisville Road and Wall Avenue occurred at about 5:45 p.m. when one car made a left turn in front of another and was T-boned, Harrisville Police Officer Alicia Davis told Gephardt Daily. The driver and a passenger — the T-boned vehicle's only occupants — were taken to a local hospital with minor injuries. The accident is under investigation and no other information was available.
About a half-hour later, at 6:20 p.m., a crash at Interstate 15 and Riverdale Road resulted in apparently very minor injuries. The people involved declined medical attention, Utah Highway Patrol Sgt. Jalaine Hawkes said.
In Ogden, there was an accident at 435 N. Wall Ave. at 7 p.m. and another collision two minutes later at 20th Street and Washington Boulevard.
Around 8 p.m., a third crash occurred in Ogden on southbound I-15 at the 12th Street exit, when a car hit a semi and was then hit by another car. In that incident, UHP Trooper Kelly Thomas said, the driver of the car that caused the accident left the scene before officers arrived. Witnesses said the driver couldn't maintain the lane and was possibly drunk. Trooper Thomas said the car was described as a gray, four-door that now has a dented front and rear end.
Thomas mentioned another crash that happened around 6 p.m. on southbound I-15 at Mile Marker 339 in Riverdale. She said that didn't surprise her, because there's a crash in that area "almost every Friday."
"There's a little bit of a curve, people don't see the traffic up ahead and they don't slow down,' she said.
Thomas also handled a crash Friday night in Morgan County. She said five teens were "extremely lucky" to have survived with no injuries when the Volkswagen Jetta SUV they were in flipped onto its side on westbound Interstate 84 near Mile Marker 104.
"They were traveling around a curve near the mountain wall," Thomas said. "They hit some water, veered toward the barrier, the driver overcorrected and the vehicle came to the right toward the mountain wall, hit a post, hit an embankment, and flipped onto the driver's side."
She said no drugs or alcohol were suspected, and speed didn't appear to be a factor. It was more a case of a young driver and "a bad curve" on that part of the road, she said. There were only enough seat belts for four of the teens, so one was not restrained, but was unhurt in the accident.
Between 5 p.m. and 11 p.m. Friday, UDOT Traffic reported 16 crashes in Salt Lake County, four of those on I-15. Six crashes were reported in Utah County, three in Summit County, and two each in Tooele, Davis and Box Elder counties.