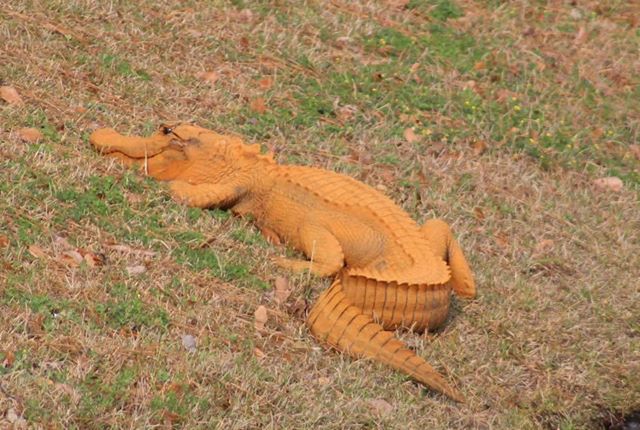 Feb. 10 (UPI) — An alligator in a South Carolina neighborhood has been nicknamed "Rusty" and the "Trump-a-gator" due to its unusual orange color.
The alligator, estimated at 4-5 feet long, has become famous on social media after local residents photographed it swimming in the retention ponds at Tanner Plantation in Hanahan.
Herpetologist Josh Zalabak offered one possible explanation for the unusual coloring of the reptile.
"Algae — maybe some pollutant in the water, but it's hard to say unless the water is tested," Zalabak told WCBD-TV.
Jay Butfiloski, the state Department of Natural Resources' Alligator Program coordinator, said the color is likely tied to wherever the alligator has been spending its winter months.
"[It] might be iron oxide [rust] that has discolored it," he told WCSC-TV. "It may be using a rusty steel culvert pipe."
Butfiloski said the coloration could also be due to a high iron content in the pond. He said similarly colored alligators have been reported in the area in the past.
Locals have nicknamed the vermilion reptile "Rusty" or the "Trump-a-gator."