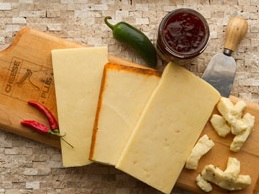 Cheese Whizzes
[one_fourth]
[/one_fourth][three_fourth_last]
Beehive Cheese Company is known for creating award-winning artisan cheeses, many with unusual rubs on the outside.
Pat Ford and Tim Welsh are co-owners of the company. "He called me up one day and said let's quit our jobs and make cheese," said Ford. "We are small artisan cheese makers, and artisan cheese is really doing well in America right now, round the c
ountry, and we just got in at a really great time and are having a lot of fun. Part of the business plan we wrote was let's win an award, and let the phone ring and coincidentally we won some awards. Promontory is probably our biggest cheese, we won a gold at the World Cheese Awards in London last November, which is the World Cup of cheese. We do really great cheddars, we do these crazy rubs on the outside. Our craziest cheese is Barely Buzzed, espresso and lavender of all things, you put creamer in coffee, why not put coffee in cream?
"Our kids are cheese makers, our families are involved, we're just a small local creamery and we love to support local," he said.
Other Beehive signature cheeses include SeaHive, which is hand rubbed with honey and salt, TeaHive, with a tea rubbed rind, and Big John's Cajun, a spicy cheese using a Cajun rub created by a local chef.
The company was founded in 2005, when Ford and Welsh left their careers in software and real estate to open the company which sits at the mouth of Weber Canyon. When they decided to go into business, their first call was to the local agricultural college. The dairy scientists at Utah State University taught the pair the rudiments of cheddar cheese making, which has some history in the region. When the locals began showing up on the creamery's doorstep to buy cheese direct, the partners opened a little retail shop too. They stock their own cheeses, a handful of others, and coffee beans from Tim's brother, a professional roaster in Colorado.
As well as stores across Utah, you can find the Beehive Cheese Company shop at 2440 E. 6600 South, Suite 8, Uintah. The shop has daily samples of selected cheeses and other products. Fresh cheese curds are also available for sale after 2 p.m. Call ahead of time to see if fresh curds are available, contact number is 801.476.0900