SINGAPORE – November 28, 2015 — (Gephardt Daily) — A massive petition is being circulated in Singapore to prevent Adam Lambert from performing there News Year Eve.
Almost 19,000 people have signed a petition seeking to remove the gay singer as headliner of a New Year's Eve performance in the Asian nation.
The "Ghost Town" singer was scheduled to perform at 'Countdown 2016,' the city-state's largest New Year's Eve celebration, which is held in Marina Bay.
But a petition posted on iPetitions.com protesters say the "performer fraught with controversy" represents values that do not align with those of Singapore, where it is still illegal for men to have sex with other men.
Petitioners point to a history of "sexualized acts," including Lambert 2009 performance at the American Music Awards (see below), in which he kissed another man, as well as "acts of indecency" featured in his recent music video, "Another Lonely Night," as reasons why Lambert should be banned from performing.
The petition claims these "lewd acts" and "active promotion of a highly sexual lifestyle and LGBT rights… are contrary to mainstream Singaporean values."
"Countdown 2016 is our annual iconic, public event for Singaporeans to come together to celebrate New Year's Eve, as one," the letter states. "Allowing Adam Lambert to perform as the star of Countdown 2016 shows disregard for the values of a majority of family-centric Singaporeans who have consistently resisted the promotion of western liberal ideas about family values and societal models."
It is signed by "concerned citizens,""concerned parents," and "concerned individuals."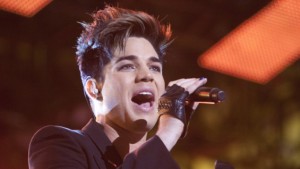 In response, fans of Adam Lambert have launched a counter-petition that has garnered over 23,000 signatures. The counter-petition can be viewed on iPetitions.com.
The counter petition opens with the statement, "We the moral majority of Singapore utterly denounce and condemn the obvious sexual orientation discrimination demonstrated by the other petition on this site that is against Adam Lambert performing in Countdown 2016."
According to news sources, MediaCorp, who is sponsoring the concert, has stated Lambert will perform as scheduled, and "the televised concert would be suitable for family audiences and conform with broadcast regulations."