NEW YORK- November 10, 2015 (Gephardt Daily) — Actor Shia LaBeouf has set Twitter ablaze once again, this time for live-streaming himself as he watches all of the movies he's starred in.
Variety is reporting, LaBeouf fans can watch the actor via digital-art website NewHive as he works his way through his entire filmography, an endeavor he's calling #AllMyMovies. According to Collider, he's screening them consecutively in reverse chronological order, 24 hours a day for the next three days at Angelika Film Center in New York City. New York lifestyle site Gothamist tracked down a screening schedule (Below):
The project is a collaboration between LaBeouf, Nastja Säde Rönkkö and Luke Turner. Guests are invited to join the actor at the Angelika free of charge.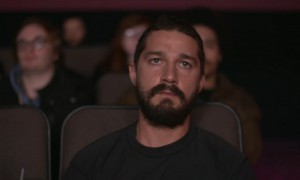 LaBeouf is best known for his turns in the "Transformers" franchise. He was last seen in "Man Down" and "Fury," and the screening schedule stretches all the way back to 2003's "Holes" and beyond. The actor was arrested in Austin in October for public intoxication.
This is not LaBeouf's first foray into the world of performance art. His Los Angeles exhibit #IAMSORRY made headlines in 2014.