November 10, 2015 (Gephardt Daily) — A quartet of films are hitting DVD, Blu-ray and Digital Copy today. Of the four major releases, my recommendation is to check out Ian McKellen's incredible performance as an aging Sherlock Holmes in "Mr. Holmes." It is truly one of McKellen's best performances of his career and one which will earn him an Oscar nomination.
"Mr. Holmes"
Starring: Ian McKellen and Laura Linney
Directed by Bill Condon
Rated PG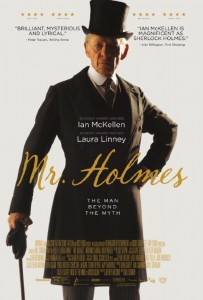 Set in 1947, the story follows a long-retired Sherlock Holmes living in a Sussex village with his housekeeper and rising detective son.
Ian McKellen takes on the role of Holmes in a very subdued way. Holmes is trying to live with the myth created years before by Dr. Watson. Holmes is almost apologetic for being so ordinary.
Now as Sherlock Holmes is dealing with the effects of old age, the loss of his memory and the emotional need to solve a case over 50 years old, the question is; can solving this one case right the wrongs in his life?

This is a wonderfully acted and moving story with McKellen in top form. Hopefully this film will be seen and enjoyed. It gets an A and is rated PG.
"Trainwreck"
Starring: Amy Schumer and Bill Hader
Directed by Judd Apatow
Rated R
Amy, played by Amy Schumer, has had it driven into her head that monogamy isn't realistic.
Now a magazine writer, Amy is enjoying an uninhibited life; but in actuality she's in a rut.
When she finds herself starting to fall for a charming and successful sports doctor, played by Bill Hader, Amy starts to wonder if she might be wrong.
Written by Amy Schumer and directed by Judd Apatow, "Trainwreck" is a smart and funny adult comedy and makes no apologies for it's brazen, sexual and offensive humor.
Schumer's comedy star is quickly rising, the comedienne has taken over the internet, TV and now the big screen.
"Trainwreck" is one of the best times you can have at the movies this year, it gets a B and is rated R.
"Terminator: Genisys"
Starring: Arnold Schwarzenegger, Emilia Clarke, Jai Courtney
Rated PG-13
"Terminator: Genisys" is the fifth film in the Terminator franchise, and takes the audience back to the first movie in a very unexpected way. Right off the bat I want to say the film does its job as a nail bitter and thrill ride. Fast paced and well directed, the film spins the "Terminator" legend in an exciting new direction.
Along with the storyline, the special effects received an upgrade as well. This kind of sci-fi / action film requires great special effects and "Terminator: Genisys" delivers some "edge of your seat" excitement.
Emilia Clarke stars as Sarah Conner, who once again is the lynchpin for humanity's future. Clarke does an exceptional job in balancing between activist and young woman.
Likewise, Jai Courtney as Kyle Reese, who begins the journey as a no-nonsense soldier but softens on the journey to allow some introspective moments into the light.
And, yes, He's back. Arnold Schwarzenegger returns to the role that defined him in the 80's. Although he does lean to comedic, his presence gives the film the energy it needs to bring everything full circle. But that being said, Schwarzenegger is also the weakest link in the film, mugging his way from scene to scene.
"Terminator: Genisys" gets a B and is rated PG-13.
"Self/ Less"
Starring: Ryan Reynolds and Ben Kingsley
Directed by: Tarsem Singh
Rated R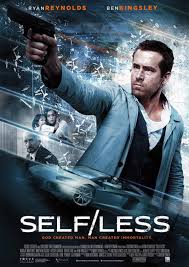 In the film, a billionaire, dying from cancer, undergoes a radical medical procedure that transfers his consciousness into the body of a healthy young man.
But all is not as it seems when he starts to uncover the mystery of the body's origin and the organization that will kill to protect its profits.
With all its promise of sophisticated science fiction, "Self/ Less" is just another predictable action/ thriller with hardly any action and even less thrills.
In what could have been an interesting look at the human condition from a man with a second chance, the film decides to take the "easy" road and disintegrates into a "big evil corporation vs the little guy" scenario.
For its unwillingness to be more than the the ordinary, "Self/ Less" gets a C. It's rated PG-13.
A side note: There's a better execution of this idea called "The Trade-Ins," aired in 1962 as an episode of "The Twilight Zone." Click here to check out the episode.