SALT LAKE CITY, Nov. 14, 2016 (Gephardt Daily) — From the time she was 10, Wendy Jacobson wanted to play guitar. According to her bio, she became a virtuoso by the age of 12, inspired by old-school punk acts like the Misfits, The Dead Kennedys and The Ramones.
Growing up in Los Angeles, Wendy attended the Music Institute in Hollywood and played in some of Los Angeles' legendary rock venues.
Jacobson also performed for American troops stationed overseas in Baghdad, not once, but twice. Jacobson also took home the 3rd place slot in the United States' "World Battle of the Bands Competition."
The singer/songwriter has performed all over the USA with such notable acts as Green Jello, Nashville Pussy, Tantric, and Taproot. Just recently SLASH had The Fabulous Miss Wendy open for him during his U.S. tour.
The Fabulous Miss Wendy performed at Club X in Salt Lake City on the final leg of her current tour promoting her new album "Life, Liberty and the Pursuit of Fabulous," which she has produced through her own record label.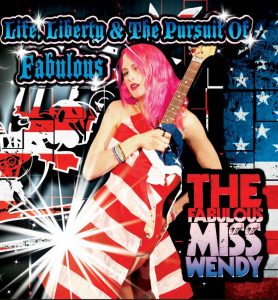 Gephardt Daily's Tony Toscano had the opportunity to chat with Wendy about her tour and her new album.
For more information visit www.thefabulousmisswendy.com for concert times and tour information.