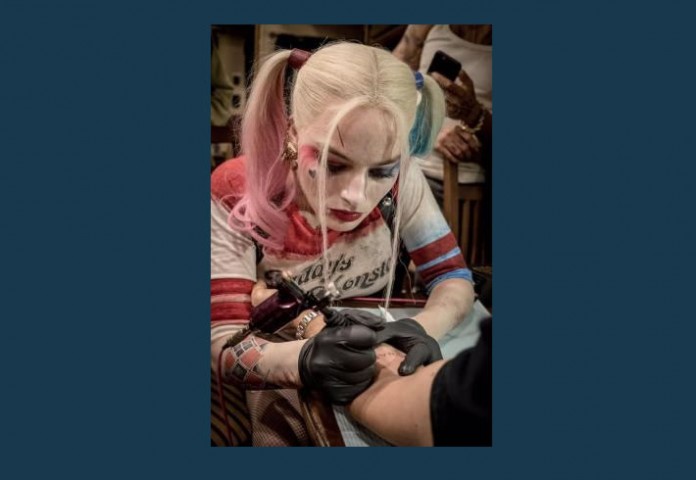 LOS ANGELES, Aug. 19, 2015 (UPI) — Margot Robbie opened her "Tattoo Parler" as Harley Quinn on Tuesday.
The 25-year-old Australian actress will play the DC Comics character in Suicide Squad, and tattooed the film's director, David Ayer, with the similarly misspelled "SKWAD" in her Harley Quinn costume. Ayer subsequently showed off his ink on Twitter.
 Robbie tattooed Ayer the same day co-star
Will Smith
inked
Joel Kinnaman
and
Jai Courtney
with identical tattoos. Smith will portray Deadshot in the movie, with Kinnaman as Rick Flagg and Courtney as Boomerang.
"Got my #skwad tattoo :)," Kinnaman captioned a photo of himself with the actor. "Will has many talents, tattooing is not one of them. It was like watching a drunk baby fly a helicopter. #suicidesquad #willsmith #harleystattooparlour."
Suicide Squad opens in theaters Aug. 5, 2016, and also stars Jared Leto as the Joker,Cara Delevingne as Enchantress and Viola Davis as Amanda Waller. The film follows the titular team of antiheroes as they complete dangerous missions for the U.S. government.