SALT LAKE CITY, Utah, Feb. 27, 2016 (Gephardt Daily) — Film reviewer Tony Toscano, best known for his nationally syndicated TV show "Talking Pictures" and his reviews on ABC TV and Gephardt Daily, has made his official predictions for the 88th Annual Academy Awards.
"Anything can happen," Toscano said. "This is a year where just about every film nominated has a chance at taking home the gold statue."
Toscano points out that a few months ago the tide was definitely pushing in favor of "The Martian," which stars Matt Damon as an astronaut left for dead on Mars.
"Damon single-handedly carried that film with his charisma and charm, but then we saw Leonardo DiCaprio's magnificent performance in 'The Revenant' and the tide changed," he said.
"Likewise with the best actress category with Brie Larson ('Room') and Saorise Ronan ('Brooklyn'), they seem to be the two frontrunners. Both actresses put in incredible performances.
"The best picture is also a very hard one to decide as each of the eight films in the category deserve to be included. But it comes down to a balance of acting, directing, cinematography and story.
"'Mad Max: Fury Road' has been the leader for the Best Picture, but again I am not counting out 'The Revenant' to walk away with the Oscar in that category."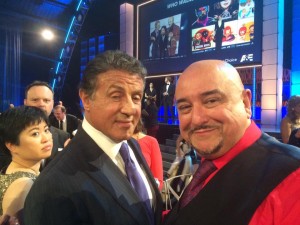 "The easiest predictions for me were Best Supporting Actor, Best Supporting Actress and Best Animated Feature," Toscano added. "Sylvester Stallone hands down did a spectacular job in bringing us an athlete, who was once on top and now only has his past"
If you want to play the 'Official Oscar Challenge' and win some great prizes or print your own ballot out, we have included a link.
The 88th Academy Awards will be broadcast Sunday night Feb. 28 beginning at 7 p.m. Eastern Time/ 4 p.m. Pacific Time on ABC TV.
Click Here to Play the Official Oscar Challenge
Click Here to Print Your Own Oscar Ballot
Tony Toscano's 2016 Oscar Predictions
Best Picture
The Revenant
Best Actor in a Leading Role
Leonardo DiCaprio – The Revenant
Best Supporting Actor
Sylvester Stallone – Creed
Best Actress in a Supporting Role
Alicia Vikander – The Danish Girl
Best Actress in a Leading Role
Brie Larson – Room
Best Animated Film
Inside Out
Best Cinematography
The Revenant
Best Costume Design
Mad Max: Fury Road
Best Director
George Miller – Mad Max: Fury Road
Best Documentary Feature
Amy
Best Documentary Short
A Girl in the River: The Price of Forgiveness
Best Film Editing
The Big Short
Foreign Language Film
Son of Saul
Best Make Up and Hairstyling
Mad Max: Fury Road
Best Original Score
The Hateful Eight
Best Original Song
Till It Happens to You
Best Production Design
Mad Max: Fury Road
Best Animated Short
SanJay's Super Team
Best Live Action Short Film
Ave Maria
Best Sound Editing
The Revenant
Best Sound Mixing
The Revenant
Best Visual Effects
Star Wars: The Force Awakens
Adapted Screenplay
The Big Short
Original Screenplay
Spotlight