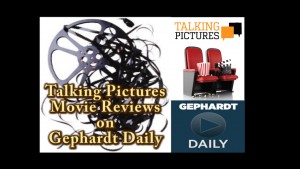 SALT LAKE CITY, Utah, Feb. 12, 2016 (Gephardt Daily) — Three big releases hit theaters this week. But I am predicting the much hyped "Deadpool" will be the weekend winner, knocking "Kung Fu Panda" off the number one spot for ticket sales.
The other two new releases, "How to be Single" and "Zoolander 2" will do well for Valentine's Day weekend, but it's "Deadpool" that has the cache to earn the big bucks.

"Zoolander 2"
Starring: Ben Stiller and Owen Wilson
Rated PG-13
It's been 15 years since they walked the catwalk, but now Derek and Hansel have an opportunity to be relevant again.
Ben Stiller returns to write and direct "Zoolander 2," the sequel to the comedy hit, "Zoolander," released in 2001. This time Derek and Hansel, played by Stiller and Owen Wilson, must confront a plot to take over the world… or something.
Plus there's a subplot about Derek's son being kidnapped.
The point is, there is no point to the film's silliness. And that's also the fun of it… it's unapologetic approach at being silly makes the film that much more enjoyable.
"Zoolander 2" is a study in nonsensical joy.
It gets a B- and is rated PG-13.
"How to Be Single"
Starring: Dakota Johnson, Alison Brie, Rebel Wilson and Leslie Mann
Rated R
In "How to be Single," four women navigate through the single scene in New York while looking for true love.
Because of the four lead characters, the film is top heavy and spends far too much time trying to resolve the issues of each person. All the while, the main characters in the film are overly predictable and stereotypical.
There's Meg, played by Leslie Mann, a hard working pediatrics doctor who wants to have a baby.
Dakota Johnson plays Alice, Meg's sister who has just ended a long-time relationship and now is sampling the single waters.
There's Robin, played by Rebel Wilson, who is out to have one-night stand after one-night-stand.
Then there's bookish Lucy, played by Alison Brie, who wants to analyze everything and create a kind of love spreadsheet.
Even though we all know where each of these characters are heading as they're introduced, there is an air of fun that supersedes the pitfalls and actually delivers a surprisingly good time.
There are plenty of laughs, even though some of the gags are a little too corny and past their prime, they have been given a new coat of paint and a new twist.
"How to be Single" ends up being a funny, although very familiar film.
It deserves a B and is rated R.
"Deadpool"
Starring Ryan Reynolds
Rated R
Ok, first off… Do not take your kids to see this film. Period.
"Deadpool" is an irreverent, gross, messy, sexist, bloody, sarcastic, unapologetic and immoral film.
It is also brilliant and very funny. However, if you're easily offended, stay home. This film is not for you.
But if you enjoy a good laugh, great satire and want to experience something totally different, "Deadpool" is your movie.
For being so off the wall and so in on its own joke, "Deadpool" gets an A and is rated R.