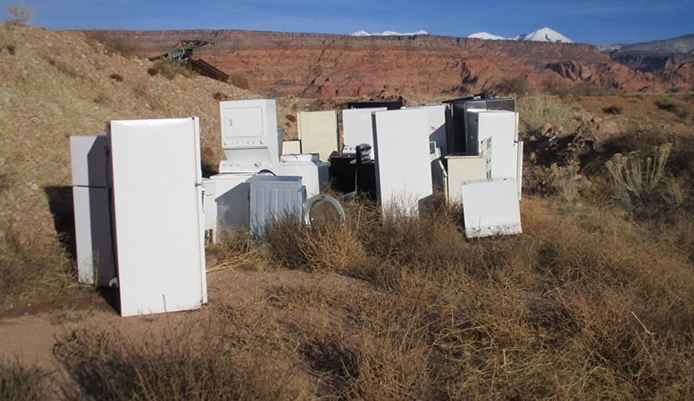 SAN JUAN COUNTY, Utah, Dec. 13, 2019 (Gephardt Daily) — The owner of a San Juan County gravel pit is offering a $500 reward for any tip that leads to the prosecution of the person or people who dumped large appliances on his property.
The San Juan Sheriff's Officer shared the message:
"In the past two to three weeks, this refrigerator, along with 30 other appliances were dumped at the LeGrand Johnson Gravel pit in Spanish Valley," the SJCSO post says.
"They possibly belonged to an appliance repair or sales company. If you recognize the refrigerator with the American flag sticker, or it belonged to you and was removed from your house by an appliance repair or sales company, please call 435-587-2237.
"Any tips or information that lead to prosecution, will he given a $500 reward from LeGrand Johnson Gravel."