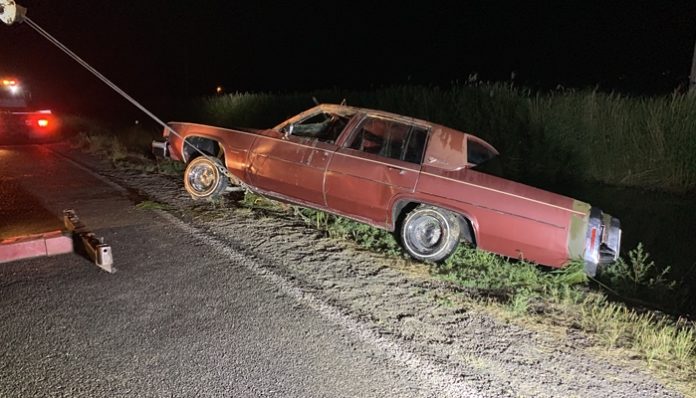 GARLAND, Utah, July 19, 2020 (Gephardt Daily) — An alleged DUI driver had to swim to safety after he plunged his vehicle into a canal in Richfield Saturday night.
"Law enforcement and EMS were dispatched on the report of a vehicle driving recklessly on 4400 West at 13400 North, in Garland and crashing into the canal," said a news release from Box Elder County Sheriff's Office.
"The vehicle, a 1981 Cadillac Coupe, was completely submerged. The driver, later identified as 37-year-old Edwy Jimenez of Garland, was able to extricate himself from the vehicle and swim to safety."
It was reported that he had a few bumps, bruises and minor scrapes, but no significant injury. Jimenez was later arrested and booked into the Box Elder County Jail on DUI charges.
"The road was closed off and on for the next three hours in an effort to recover the vehicle from the canal," the news release said. "Box Elder County Scuba and Recovery Team were called in to dive and hook up the car for the wrecker service to retrieve it from the canal."
Bear River Health Department officials responded to monitor any significant hazardous spillage into the waterway.
"This has been a very busy weekend for Box Elder Sheriff's deputies and volunteer groups," the news release added. "There have been several recreational vehicle accidents reported over the weekend, some of them requiring search and rescue teams to aid and transport injured individuals. As people continue to seek outdoor activities in the midst of the COVID pandemic Box Elder Sheriff urges good safety practices. As you venture into the outdoors please let someone know where you are going, when to expect you back and don't deviate from those plans without notifying someone. Sheriff's Office and search and rescue teams need to know where to start looking for you if the need arises."