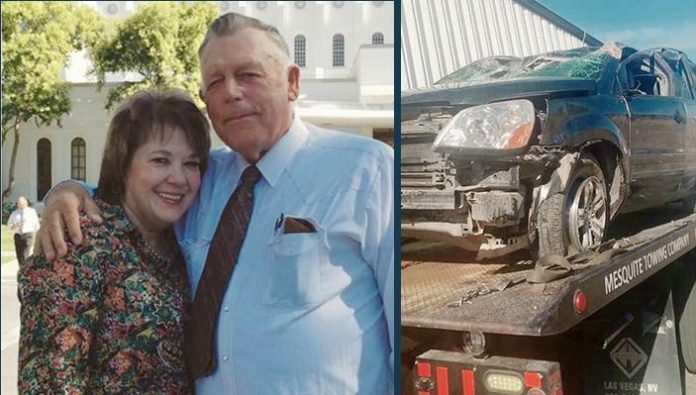 MESQUITE, Nev. Dec. 6, 2016 (Gephardt Daily) —  Relatives of Nevada rancher Cliven Bundy and his wife, Carol Bundy, say the couple was injured in two serious accidents earlier this week.
In a message posted on social media Tuesday, the Bundys' daughter, Bailey Bundy-Rogue, said the first incident took place when her mother, Carol, was injured in a crash outside Mesquite.
"This morning I got a call that my mom had been in a roll over accident," she wrote. "She is going to be 'OK' but she is really banged up, bruised and in a lot pain. It's a miracle she is with us tonight."
Nevada Highway Patrol investigators told Gephardt Daily that Bundy was driving northbound on Interstate 15 about 7:10 a.m Monday when she rolled her car near mile marker 113. Troopers said a medical episode appeared to be the cause of the crash.
Bundy-Rogue said they had just returned with her mother to the family's home when she learned her father, Cliven, 70, had been injured in a jailhouse fall.
"As we were getting her all settled in at home, we received a call that my dad (Cliven) had an accident in jail today. He fell really hard and is in a lot of pain. They took him to the infirmary and they told him he was fine, gave him an aspirin and threw him back in his pod. He is not OK. He is in A LOT of pain. My brother says he can hardly move and it is not OK. It's killing me that I can't be with him."
Cliven Bundy and sons Ammon, Ryan, Mel and Dave are currently being held at the Nevada Southern Detention Center in Pahrump. They and 13 other defendants face 16 federal charges stemming from the armed standoff against the BLM outside the Bundy Ranch in Bunkerville, Nev., in April 2014.
Trial is set for Feb. 6 in federal court in Las Vegas.
Ammon Bundy and his brother, Ryan, were previously acquitted on federal conspiracy charges related to the 41-day takeover of the Malheur National Wildlife Refuge outside Burns, Ore., in January 2016.