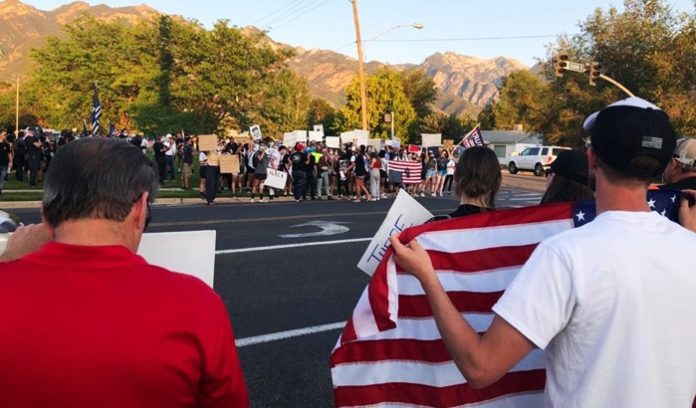 COTTONWOOD HEIGHTS, Utah, Aug. 6, 2020 (Gephardt Daily) — Cottonwood Heights City is asking an outside agency to conduct an investigation into protests that took place on Sunday and Monday.
Sunday's protest took a violent turn in the Mill Hollow Park neighborhood when police confronted demonstrators who'd ignored their orders to stay on city sidewalks and not impede traffic.
One of the protesters allegedly punched an officer in the face and fellow officers responded, descending on the defiant marchers with night sticks, Tasers and chemical spray.
Both police and protesters were injured in the melee. One policeman was choked until he lost consciousness, another had his nose broken. Others officers suffered injuries, including broken bones, according to a statement by the Cottonwood Heights Police Department.
Seven protesters were charged with crimes ranging from felony assault on a police officer, to rioting, to failure to disperse.
Dozens of heavily armed demonstrators gathered back in Cottonwood Heights on Monday night, a counter-protest in part to a Black Lives Matter demonstration being held across the street from police headquarters.
On Thursday, the city released a statement:
"Following the Aug. 2 incident at Mill Hollow Park, Cottonwood Heights officials recognize that there are significant issues, tension, and differences of opinion regarding the response by police on this matter. Many of those concerns were shared during the public city council meeting on Tuesday, Aug 4, and more have been shared among multiple other platforms."
Mayor Mike Peterson added: "We have heard the calls from our residents and other individuals, and we understand their concerns. We are gathering information and will have a full investigation conducted by an agency outside of our city on this matter."
The outside agency investigation will take place following the criminal investigation of the Mill Hollow incident and an internal city review, the news release said.
Cottonwood Heights, Aug. 3, 2020