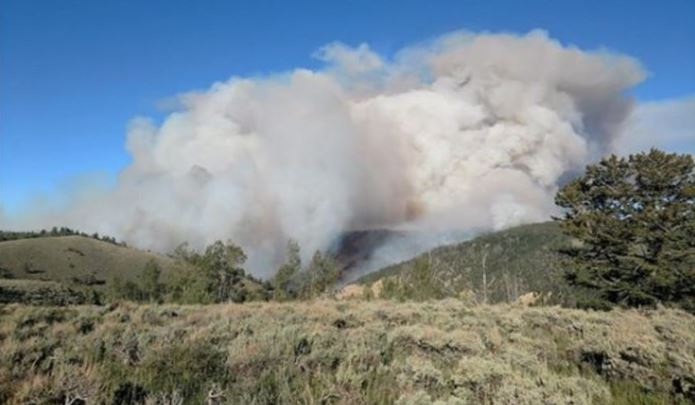 WASATCH/DUCHESNE COUNTIES, Utah, July 3, 2018 (Gephardt Daily) — Officials ordered immediate evacuations Tuesday afternoon as the Dollar Ridge Fire, which started Sunday near Strawberry Reservoir, continues to intensify.
The Duchesne County Sheriff's Office tweeted at 4:30 p.m. that residents south of State Route 40, from Sam's Wash Road to the Strawberry River Road west of Starvation Reservoir, should evacuate immediately. Evacuated residents should shelter at Duchesne High School at 155 W. Main St.
A total of 200-300 homes have been evacuated to the Red Cross center at the high school. Officials said some homes and cabins have been lost, but no dollar estimate of damages was available.
An online update at 1 p.m. Tuesday said the fire has consumed 30,000 acres, and is still zero percent contained.
The update said a Type 2 Incident Management Team has arrived at the site, and took over management of the fire at 6 a.m. Tuesday. The Red Flag warning for Wasatch and Duchesne counties continues Tuesday.
"Fire crews will work to establish an anchor point on the northern edge of the fire and begin working to create a fireline between the fire and State Route 40," the update said. "Additional air resources, water dropping helicopters and single engine air tankers will be coming into the area Tuesday afternoon and begin making strategic drops to slow the fire's spread to allow ground crews to get in close and begin containment."
Governor Gary Herbert visited the Incident Command Post Tuesday for a briefing and aerial tour of the fire, and he met with evacuees.
"Driving conditions on State Route 40 are congested with limited visibility in areas so the public is urged to slow down, drive with their headlights on and watch out for fire crews and others on the sides of the road," the update continues. "Please keep driving safely and do not stop or pull over to watch the fire or add to the already dangerous and crowded road conditions."
Late Monday, Duchesne County Sheriff's Office said in a news release that roadblocks will be set up at the entry points to the areas evacuated because of the fire.
All mandatory evacuations remain in place until further notice. In the interest of everyone's safety, no one will be allowed to enter the evacuated areas.
According to the news release, those who have animals can take them to the Duchesne County Fairgrounds. If you have a trailer and have been evacuated, you can park it at the fairgrounds.
Evacuations were ordered Monday afternoon and the evacuation order has been extended as the blaze continues its rapid advance with no containment. As the fire advanced, Duchesne County Sheriff David L. Boren ordered evacuations Monday for Strawberry Gorge, Timber Creek, Beaver Creek, Camelot Resort, the Currant Creek Subdivision and the Pinyon Ridge Subdivision.
The Dollar Ridge Fire started 4.5 miles southeast of Strawberry Reservoir at about 1 p.m. Sunday. Initially reported as 20 acres burning in timber on private property, by 3:30 p.m. the fire had overtaken an estimated 1,500 acres.
The cause is believed to be due to human activity and is under investigation.
Gephardt Daily will update this story as more information becomes available.