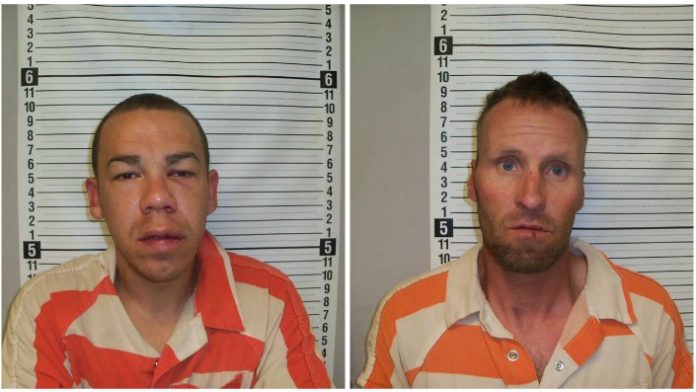 FERRON, Utah, April 15, 2016 (Gephardt Daily) — A Facebook argument led to a shooting at an apartment complex near a Utah Highway Patrol Lieutenant's home in Emery County Thursday night.
According to a statement released by the Emery County Sheriff's Office, the UHP lieutenant called Emery County dispatchers to report a fight and shots fired at an apartment complex near his home just before 7 p.m.
The lieutenant, who lives around the corner from the apartment complex, had just pulled into his driveway when he heard gunshots and people yelling. He told dispatchers he could see the individuals, but was too far away to know who was shooting.
As the lieutenant pulled into the apartment area, he witnessed four individuals fighting, so he drew his weapon and ordered all four subjects on the ground.
One of the men identified the alleged shooter as Reyfus Graves, 36. After a gun was discovered inside one of the apartments, Graves and another man, Erick Stilson, 37, were arrested.
Emery County Sheriff's deputies and additional UHP troopers arrived, and investigators were able to determine the argument started on Facebook and over text messaging but have not disclosed the nature of the argument.
The intended victim had stated on social media he was headed to the apartment complex. Graves, who was sitting in a vehicle with two other individuals, were already there waiting when he arrived. Graves immediately exited the vehicle and walked toward the intended victim, who was not armed.
Graves allegedly fired three rounds from a small caliber handgun at the victim. One round hit above the door of the victim's vehicle, one round hit a house across the street and a third shot was fired underneath the vehicle as the victim was shielding himself on the other side.
Graves was booked into the Emery County Jail on two counts of attempted homicide and two counts of reckless endangerment.
Stilson, the owner of the firearm, was booked into the Emery County Jail on obstruction of justice, two counts of attempted homicide, possession of a firearm by restricted person, and two counts of reckless endangerment.