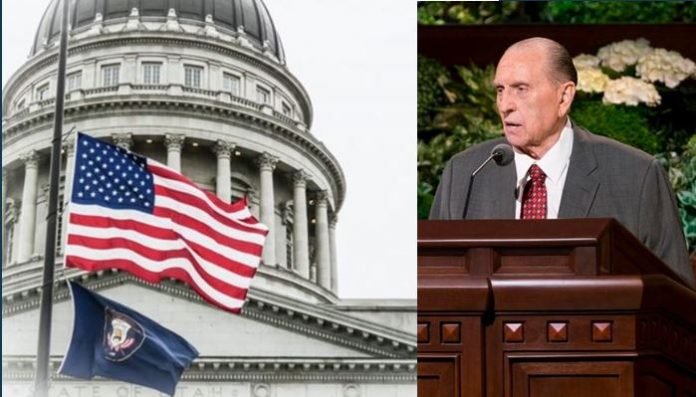 SALT LAKE CITY, Utah, Jan. 8, 2018 (Gephardt Daily) — Gov. Gary R. Herbert has ordered the lowering of the flag of the United States of America and the flag of the State of Utah on Friday to honor the life and service of Thomas S. Monson.
Monson, president of The Church of Jesus Christ of Latter-day Saints, will be laid to rest on that day. He passed away on Jan. 2 at age 90.
Herbert issued the following statement after Monson's passing:
Jeanette and I join millions of people around the world in mourning the death of LDS Church President Thomas S. Monson. His life was a sermon of service. He cared for all people as children of God. The state of Utah and its citizens are better people because of his example of kindness, his personal ministry and his visionary leadership.
While serving as the lay leader of his inner-city LDS congregation at a very young age, Thomas Monson learned to serve those who struggled with life's challenges, especially the many widows in his neighborhood. That meaningful one-on-one service set him on his lifelong pathway of compassionate leadership that will endure in all of our hearts.
Throughout my years of public service it has been a distinct privilege to associate with President Monson and his sweet wife Frances. They became dear friends and mentors to our family. His legacy of service, compassion and unwavering love for all of God's children will be felt for generations to come.
As we celebrate President Thomas S. Monson's remarkable life, let us remember his focus on the one — his admonition to serve the individuals around us — recognizing that even the smallest actions can lift lives and brighten our world.
Our prayers are with President Monson's family and friends as they mourn his passing.
Herbert's statement said flags will be flown at half-staff at all state facilities and public grounds from sunrise until sunset on Friday only. Individuals and businesses are encouraged to fly the flag at half-staff for the same length of time.
The church has announced that Monson's funeral will be at noon on Friday in the LDS Conference Center. It is open to ages 8 and older, and all guests must be in their seats by 11:30 a.m.
The LDS Conference Center is at 60 W. North Temple, Salt Lake City. It has approximately 21,000 seats.
A viewing for Monson will be held in the same location from 9 a.m. to 8 p.m. on Thursday of this week. All ages are welcome.
Church officials provided this link for those seeking parking downtown.