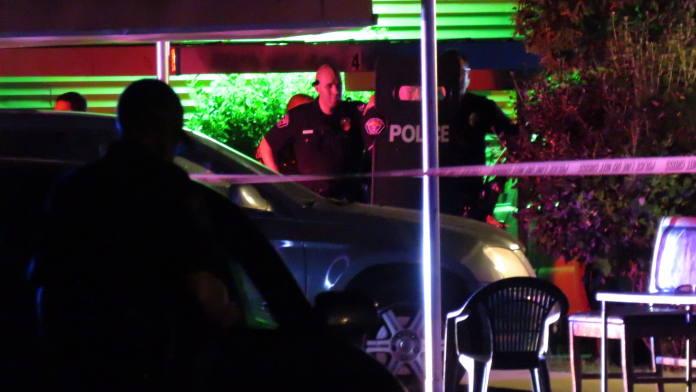 WEST VALLEY CITY, Utah, Sept. 9, 2017 (Gephardt Daily) — Police were at the scene of a shooting Saturday night near the Family Dollar store at 4700 South and 4800 West.
West Valley City Police Lt. Amy Maurer said information was received at about 8:30 p.m. that a man had a gunshot wound to the torso.
Officers responded and administered first aid until the arrival of fire department personnel, who provided further medical care and transported the victim to the hospital.
Maurer said the victim was initially in poor condition but was later upgraded to fair condition.
Officers combed the area where the shooting took place, looking for any evidence and anyone who might have witnessed the incident.
Lt. Maurer said police were tipped off about a possible suspect and tracked the man to a nearby residence.
Containment was established and SWAT negotiators tried to make contact with the suspect while police worked to obtain a warrant to enter the home.
After a couple hours, officers used a bullhorn in an attempt to talking him into surrendering. When the suspect did not answer tear gas was fired into the home.
A short while later SWAT officers entered the residence only to discover the suspect was not inside.
Maurer said it was still very early in the investigation, and police were working to determine the names and associations of anyone possibly involved in the shooting. The suspect is described only as "a heavyset male."
Anyone who saw or heard any part of the incident or who may have other information relating to it is asked to call West Valley City Police at 801-840-4000.
West Valley City shooting