Mayor Becker Shows Off High-Comfort Bikeway
SALT LAKE CITY May 11, 2015 – The annual Mayors' Bike-to-Work Day event on Tuesday, May 12 has a new route this year, designed to highlight Salt Lake City's growing high-comfort bikeway network.  Salt Lake City Mayor Ralph Becker will pedal with Salt Lake County Mayor Ben McAdams and members of the public from Sugar House Park to downtown Salt Lake City.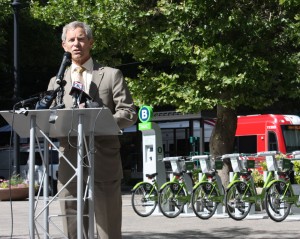 "Residents are invited to join us in exploring several of Salt Lake City's newest high-comfort bikeways, which make bicycling safer and more comfortable for more people," said Mayor Becker. "These projects are part of my initiatives to improve urban livability and regional air quality, provide transportation choices, and create a healthy, sustainable city."
"With Salt Lake County Parks & Recreation's completion of The Draw beneath 1300 East, bike commuters have a safe, convenient route from the Bonneville Shoreline Trail into Salt Lake City," said Mayor McAdams.  "Eventually, they'll be able to ride to the Jordan River Trail.  It's all part of our effort to expand an active transportation system of routes throughout the Salt Lake valley."
The Bike-to-Work Day route will feature the Sugar House Greenway, 600 East Neighborhood Byway, and Broadway separated bike lanes.   This summer, 600 East will receive new bicycle/pedestrian signals, crossing treatments, bikeway markings and signage.  For Bike-to-Work Day, a police escort will assist with the crossings of busier streets.
Bike Week also brings a new edition of Salt Lake City Bikeways Map, now featuring a comfort-rated approach to the City's streets.  The map is available in hard copy at local bike shops, libraries, and from Salt Lake City booths at festivals and events throughout the summer.
For more info go to Salt Lake City Bike Events