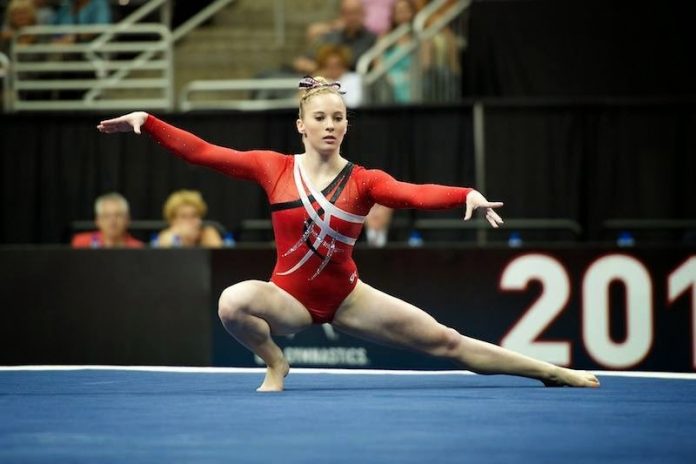 SAN JOSE, Calif., July 11, 2016 (Gepardt Daily) — Future Ute gymnast MyKayla Skinner has been named one of three alternates for the 2016 Olympic Games in Rio de Janeiro.
Skinner placed fourth in the all-around at the U.S. Olympic Trials, but only the all-around champion automatically qualified for the five-person USA Olympic Team, with the balance of the team and the three alternates chosen by the Olympic selection committee. In addition to her fourth-place all-around finish, Skinner was second on vault and fifth on beam and floor.
As the U.S. team's first replacement athlete, Skinner, 19, will train and travel with the team to Rio, according to a statement from the University of Utah.
"I'm so proud," Skinner told KPNX-12 News, from her home state of Arizona. "I just wanted to go out there and go four-for-four and rock night two, and that's what I did.
"Being an alternate is still the same. It's being on the team. I'm still working just as hard as the other girls, and it'll be a great experience being an alternate."
Skinner will train with the team in Texas next week the team before heading to Rio for the Olympic Games.
Skinner, who won the all-around at the 2016 Glasgow World Cup, signed with Utah in November 2014, but deferred enrolling for a year to pursue a berth in the Olympics. She plans to report to school in late August.
Team USA will send one of its most decorated and competitive women's gymnastics teams ever to next month's Rio 2016 Olympic Games as it attempts to defend its Olympic team gold medal for the first time in history.
Chosen after two intense nights of competition at the U.S. Olympic Team Trials, the team is led by three-time all-around world champion Simone Biles, who is already the most decorated U.S. gymnast and will look to cement her place in history at her Olympic debut in Rio.
Gabby Douglas and Aly Raisman return to the Olympic team after winning both team and individual golds at the London Olympic Games four years ago. They become the first U.S. women's gymnasts to make two Olympic teams since Dominique Dawes and Amy Chow did so from 1996 to 2000.
Joining them is first-year-senior standout Laurie Hernandez, who finished second to Biles at Olympic Trials and becomes the first Puerto Rican woman to make a U.S. Olympic Gymnastics Team, and uneven bars specialist Madison Kocian, who last year won the world title in uneven bars in a four-way tie.
The other two replacement athletes are Ashton Locklear and Ragan Smith.