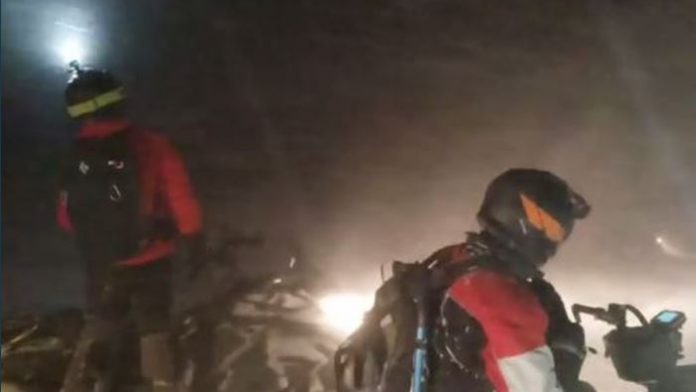 WASATCH COUNTY, Utah, April 13, 2019 (Gephardt Daily) — Wasatch Search & Rescue has released a video of blizzard conditions earlier this week when crews scoured a trail in eastern Wasatch County for signs of a lost snowmobiler.
"Conditions are not good," said a SAR post issued to Facebook just before 3 a.m. Thursday. "Wasatch SAR teams deployed to Nobletts trailhead. The search was not successful tonight."
A 911 dispatcher had notified officials at 8:30 p.m. Wednesday that a 26-year-old snowmobiler had become separated from his group.
Crews organized and deployed, but found no sign of the man overnight, and made plans to search again at daybreak.
"Teams were deployed this morning and the lost snowmobiler was located just after 7:30 a.m." said an update to the initial post.
"This was a multi agency effort and we want to give a big thanks to Summit County Utah Search and Rescue, Intermountain Life Flight, and Department of Public Safety Flight Team."
The man, whose name has not been released, told officials that after he became stuck, "he dug in for the night," the post says. "At first light, he began walking downhill and ran into one of our search teams about 7:30 this morning. He is in very good condition. Special thanks the searchers who spent a very snowy night on the mountain."
But mere words can't capture search conditions the way a video does. To see the Wasatch Search & Rescue video, click on the player below:
A cool video of our Search & Rescue OP from last night and this morning.

Posted by Kam Kohler on Thursday, April 11, 2019