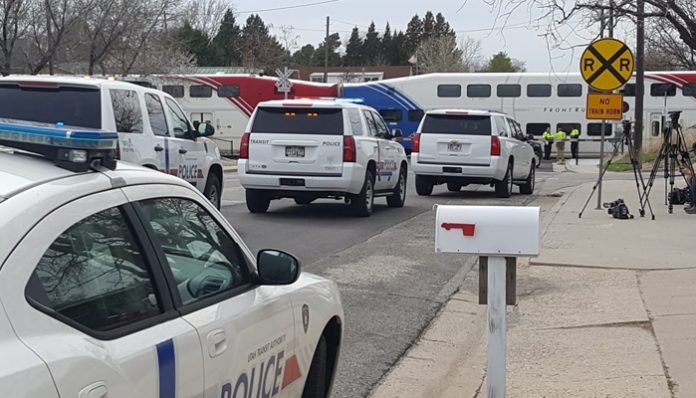 SUNSET, Utah, April 8, 2019 (Gephardt Daily) — A pedestrian died after being hit by a FrontRunner train in Sunset Monday afternoon.
Utah Transit Authority spokesman Carl Arky told Gephardt Daily the incident occurred in the area of 1300 N. 498 West in Sunset at approximately 3 p.m.
A follow-up news release from UTA said a southbound FrontRunner train encountered a trespasser on UTA's alignment. The trespasser, a 17-year-old male, is deceased.
"This incident does not appear to be accidental," the news release said. "UTA does not comment any further on incidents of this nature."
The FrontRunner train has been released and the operator will be offered counseling and any medical care required, the news release said. There were no reported injuries to any one on the train.
UTA has continued providing service north and south between Clearfield and Provo as well as Roy and Ogden. A bus bridge will continue operating between Clearfield and Roy until full service resumes at around 6 p.m., officials said.
"The incident train is travelling to Clearfield, where passengers will deboard," said a follow-up tweet from UTA. "The train will then continue back to FrontRunner yard, travelling past Layton, Farmington, and Woods Cross OUT OF SERVICE."
Gephardt Daily does not usually report on suicides or suicide attempts unless they occur in public places or otherwise impact a community.