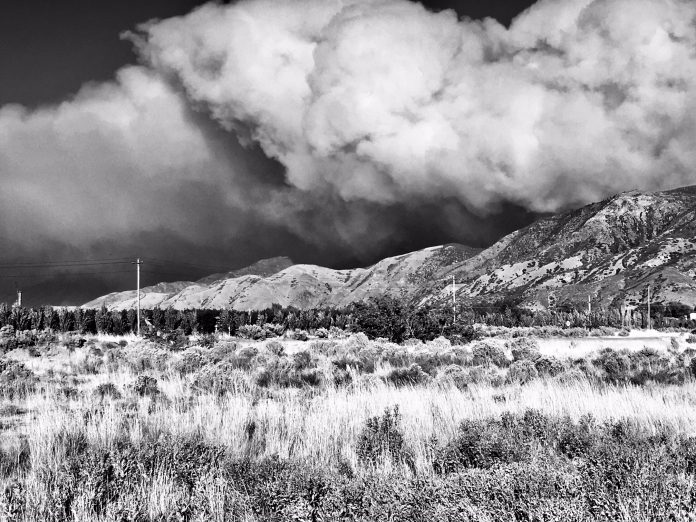 UTAH COUNTY, Utah, Sept. 25, 2018 (Gephardt Daily) — The Pole Creek Fire in Utah County has barely increased in size at 101,843 acres Tuesday morning and is now 55 percent contained.
The Bald Mountain Fire, which has merged with the Pole Creek Fire, is also holding at 18,600 acres and is 61 percent contained, according to the InciWeb website.
A total of 1,688 personnel are still assigned to the fires, a news release from the Utah County Sheriff's Office said.
Residents in the Woodland Hills and Elk Ridge communities were let back into their homes starting at 9 a.m. Saturday, but officials are warning residents to remain vigilant.
"Incident managers are careful to remind everyone that while significant progress has been made, there are areas that still have great concern," the news release said. "Those include Covered Bridge and Right Fork Hobble Creek, where mandatory evacuation orders are still in place. But officials also caution that people should still be prepared in Elk Ridge, Woodland Hills, and Birdseye should fire behavior change. Other areas in Diamond Fork are still threatened, but fire officials are optimistic that structure protection efforts there will continue to keep the Pole Creek Fire from advancing and damaging or destroying cabins in the Little Diamond and Wanrhodes areas."
Although residents in Elk Ridge and Woodland Hills have returned to their homes, they are on pre-evacuation status. Checkpoints in both cities have been shut down but deputies are actively patrolling the area while on pre-evacuation status. The covered bridge checkpoint is still active while the community is under evacuation.
While both U.S. Highway 6 and U.S. Highway 89 are open, due to fire operations that are ongoing along both roads drivers are being urged to exercise care and drive at the suggested speed of 45 mph.
The Pole Creek Fire started on Sept. 6 and the Bald Mountain Fire on Aug. 24; both fires were caused by lightning. The fires are expected to be contained by Oct. 1.
For an interactive evacuation zone and fire boundary map click here.