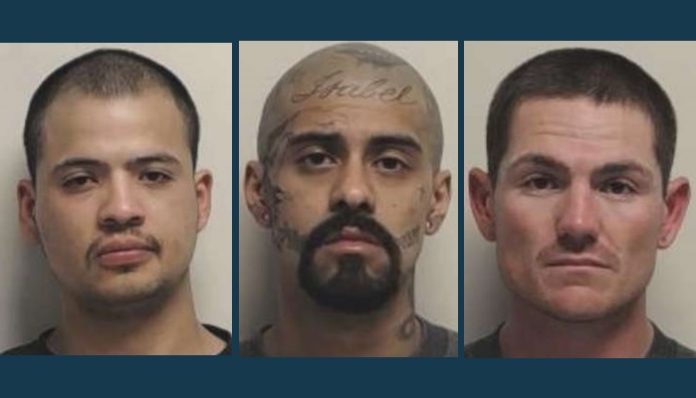 PROVO, Utah, April 1, 2019 (Gephardt Daily) — Three suspected gang members are behind bars after allegedly kidnapping a man at gunpoint in Provo Saturday morning.
Probable cause statements filed in Utah County say Brandon Alberto Ramirez-Robles, 22, of Springville, Hector Manuel Rosas, 24, of Salt Lake City and Leo Morgan Bradley, 33, of Pleasant Grove are "admitted Sureños gang members and have a long criminal history …"
Investigators said the kidnapping happened about 7:20 a.m., when the three suspects pulled alongside a former gang member as he walked down a Provo street.
"The three defendants pepper sprayed and grabbed the victim, forcing him into their car," the statement said.
Rosas then held a gun to the victim's head and robbed him of approximately $500, the statement said.
"At one point, the driver slowed for a red light or traffic, and the victim jumped out of the slow moving vehicle and called 911," the statement said.
An officer spotted the suspect vehicle heading south on Freedom Boulevard in the area of 100 North. The officer tried to make a traffic stop, but the vehicle kept going southbound before stopping blocks away at 580 S. 400 West.
Ramirez-Robles and Bradley were taken into custody at the scene of the stop, while Rosas ran to a friend's nearby apartment, according to the statement. When he couldn't get his friend to answer the door, Rosas reportedly hunkered down in front of another apartment. The occupants of that apartment called 911 saying there was a man laying on the ground near their front door. Moments later police arrived and took Rosas into custody.
Police said they found two baggies of methamphetamine inside the suspects' car, next to where Rosas was sitting. They also found a hypodermic needle and a glass bulb-style pipe in Rosas' jacket, both of which tested positive for meth, the probable cause statement said.
A gun, which police say thrown from the vehicle, was found by a passerby near Center Street and Freedom Boulevard.
While officers were searching for Rosas, dispatch advised that a citizen had called and reported finding a gun near Center Street and Freedom Boulevard "exactly where the three defendants where driving."
One of the other codefendants told officers that Rosas threw the gun out of the vehicle when the officer saw them and began to turn around. The gun recovered was reported stolen out of California.
Because of criminal history and severity of the crime, the victim made statements that he would be killed when the suspects got out of jail since they know who he is.
Ramirez-Robles and Bradley are facing charges of first-degree felony aggravated robbery, first-degree felony aggravated kidnapping and third-degree felony aggravated assault. Their bail has been set at $25,000 each.
Rosas is facing the two first-degree felony charges, along with:
Second-degree felony possession of a dangerous weapon by a restricted person
Third-degree felony assault
Third-degree felony purchase, transfer, possession or use of a firearm by a restricted person
Class A misdemeanor possession or use of a controlled substance
Class A misdemeanor tampering with evidence
Class B misdemeanor use or possession of drug paraphernalia
Rosas is restricted from possessing a firearm and is also on probation or parole. His bail is set at $35,000.