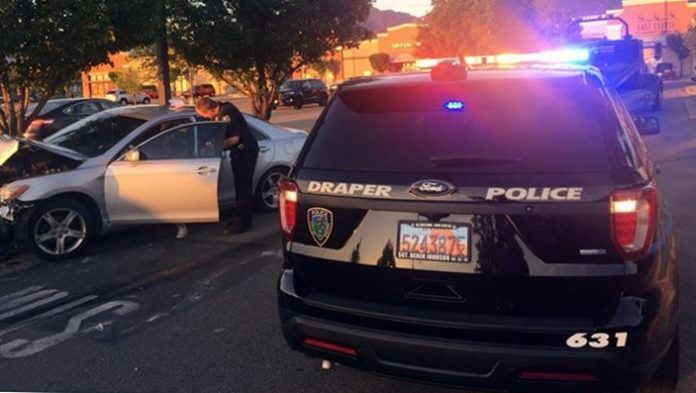 DRAPER, Utah, Aug. 7, 2019 (Gephardt Daily) — A woman was taken into custody Wednesday evening after police said they stopped her on a shoplifting call and she fled the store, crashing her car into multiple parked cars.
Sgt. Scott Adams, Draper City Police Department, spoke to Gephardt Daily on the scene.
"Tonight our officers were dispatched to the Kohls here at 147 E. 12300 South at approximately at 7:30," Adams said. "They arrived on a theft call, and while they were responding to that, they were alerted by a security guard that another theft in progress was under investigation."
The officer approached the female suspect, who ended up running into the parking lot, Adams said.
"The suspect was able to get into a car and flee through the parking lot, and while doing so, our officers were obviously trying to get her to stop," Adams said. "She ended up crashing into several parked cars before getting out of the parking lot, where we subsequently took her into custody after she crashed her car a second time."
The suspect, later identified as Desiree Marsh, 20, of American Fork, had minor bumps and scratches. They required no medical treatment, Adams said.