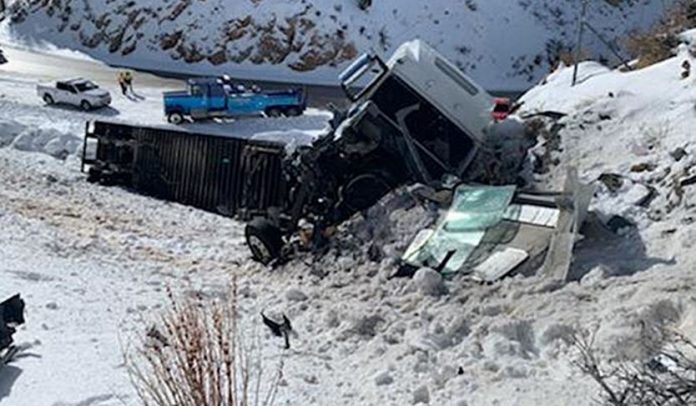 RICH COUNTY, Utah, Feb. 5, 2019 (Gephardt Daily) — A Rich County deputy was seriously injured in a crash in Laketown Canyon Tuesday morning, but is expected to survive.
A news release from the Utah Highway Patrol said the incident occurred after a semi slid off the roadway and rolled in Laketown Canyon on westbound State Route 30 at approximately 10:30 a.m.
"A UHP trooper responded and was investigating," the news release said. "A Rich County deputy was positioned just east of the crash location at a runaway truck ramp.
"Another westbound semi lost control coming down the grade and struck the deputy while outside of his patrol truck."
The semi missed the truck ramp and struck the rocks.
The seriously injured deputy was transported to Logan Regional Hospital.
One of the semi drivers suffered minor injuries and was also transported to Logan Regional, but it wasn't immediately clear which of the two semi drivers were injured.
As of 1 p.m., the canyon is shut down in both directions while crews clean up and investigate the scene.
Gephardt Daily will have more on this developing story as information is made available.