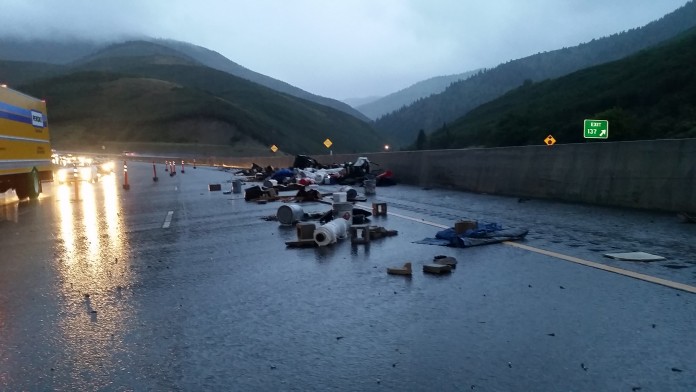 LAMBS CANYON – August 7, 2015 (Gephardt Daily) – Two hundred yards of Interstate 80 were strewn with screws and nails Friday, after a semi-truck hauling a trailer of roofing supplies overturned in Lambs Canyon.
According to Utah State Trooper Jared Cornia, the truck was heading westbound around 8:30 p.m. when its electrical system suddenly went out.
The driver lost the use of his brakes and the truck began to jack-knife before rolling over.
A 25-foot-long trailer loaded with roofing supplies, including thousands of screws and nails, spilled across a 200 yard swath of westbound I-80 near mile marker 137.
The driver of the truck, whose identity was not released, was uninjured.
A street sweeper was called in to clean up the westbound lanes. The operation was expected to last at least an hour.
Troopers say they've yet to determine why the truck's electrical system failed.