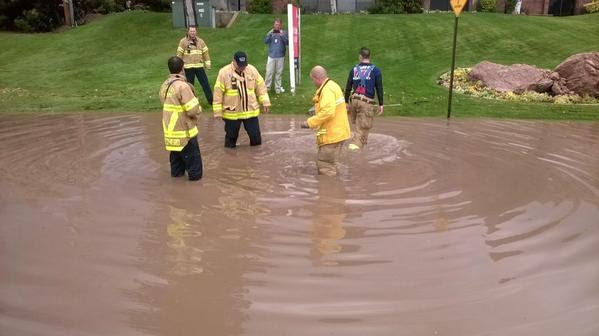 WASATCH FRONT, UTAH – October 2, 2015 (Gephardt Daily) – Heavy rainfall and snow at lower elevations have created a flurry of safety issues for drivers all along the Wasatch Front Friday afternoon.
According to the Community Emergency Response Team in Lehi, an emergency callout was requested around 1 p.m. but was cancelled shortly after as flooding started to drain sufficiently on its own. They are still asking for others to help their neighbors as they continue to address issues locally.
Lehi also had significant hail that collected in various parts of the city.
The Salt Lake City Fire Department posted that their crews are responding to several flooding incidents in the Sugarhouse area, especially around 2100 South and 2100 East.
Jasen Asay, spokesperson for Salt Lake City Police said there are a couple of residences that called in for help with flooding that crews have responded to.  "Several homes on Chancelor way, Skyline and Wasatch Drive placed emergency calls for flooding at their homes," said Asay. "Streets in the surrounding area are bad as well. Basically the area most affected is between 1300-2100 South and from the East bench to about 900 East."
Hail fell in parts of West Jordan and snow has been reported just up Little Cottonwood Canyon.