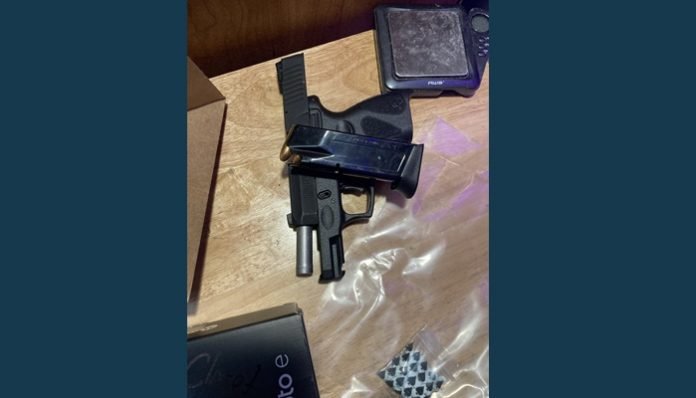 SPANISH FORK, Utah, Oct. 18, 2021 (Gephardt Daily) — A Spanish Fork man has been arrested after large quantities of fentanyl powder and pills as well as other drugs and illegal firearms were found in a residence, according to the Utah County Sheriff's Office.
On Oct. 13, officers from the Utah County Special Enforcement Team, Spanish Fork Police Department, and the Utah County Metro SWAT Team served a search warrant on a home on Black Horse Drive in Spanish Fork, said a news release from Utah County Sheriff's Office.
"The search warrant was the result of an investigation which started after detectives received information about a man involved in distributing fentanyl," the news release said. "Detectives received information from several sources that the fentanyl was being sold in both powder and pill form. It was also reported that the man had firearms in his possession. The main suspect was identified as 31-year-old Cory Jolley."
Detectives had the Utah County SWAT team conduct a traffic stop on the suspect after he left the home in a car. After he was in custody, the SWAT team then approached the residence and called several other individuals out from inside. SWAT officers then cleared the residence wearing gas masks and other protective gear due to the dangers of the fentanyl powder.
"Detectives then searched the residence wearing protective gear as well," the release said. "A small marijuana grow was located in the suspect's bedroom. Other drugs including methamphetamine, heroin and drug paraphernalia were also found throughout the home.
Detectives located in a safe a total of 32.53 grams of powder they believed to be fentanyl. The substance was packaged and sealed at the residence. It was tested later at a more secure location which showed the powder was positive for fentanyl."
A total of 74 pills were found that are believed to be counterfeit 30 mg Oxycodone Hydrochloride. They were also tested for fentanyl and showed positive. A handgun with the serial number removed was also found in the safe alongside the other drugs.
Besides the fentanyl, 30.14 grams of methamphetamine, 9.31 grams of heroin, 175.3 grams of marijuana, two E-cigarette cartridges containing THC and four marijuana plants along with growing lights and humidifiers were found.
"Of significant concern is the fentanyl found during this investigation," the news release said. "Recognizing that fentanyl is prescribed and administered in micrograms (mcg), and recognizing that a fatal dose of fentanyl is 2 milligrams (mg), it is disturbing that 32.53 grams of fentanyl is enough to kill over 16,000 people."
When SWAT and detectives executed the warrant and searched the house, all of them wore Personal Protective Equipment. Each of them also carried Narcan with them just in case any one of them might be exposed to fentanyl should they find any.
"Fortunately, none of them, or any people at the house, were dangerously exposed to the fentanyl that was found," the news release said.
Jolley was booked into jail on the following charges:
Three counts of possession of controlled substance with intent to distribute, a second-degree felony
Possession of controlled substance with intent to distribute, a third-degree felony
Knowingly produce/dispense/manufacture a controlled substance, third-degree felony
Purchase/possession/transfer/use of a firearm by a restricted person, third-degree felony
Alter number on pistol/revolver, class A misdemeanor
Possession of drug paraphernalia, class B misdemeanor
Jolley's bail was set at $10,000; the suspect bailed out of jail early the next day.