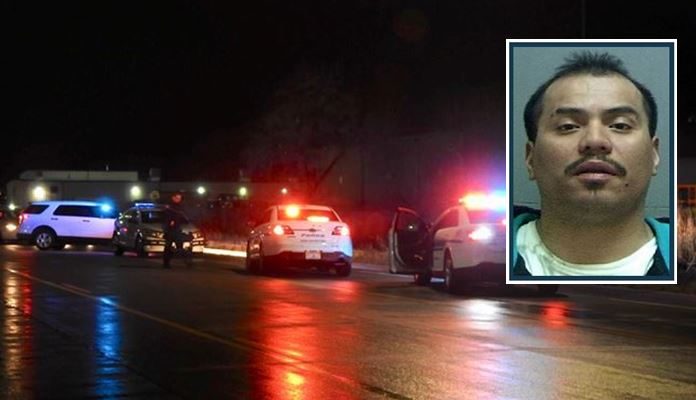 WEST VALLEY CITY, Utah, March 24, 2019 (Gephardt Daily) — A West Valley City domestic dispute took a terrifying turn early Sunday morning when a man tried to strangle his estranged girlfriend and her 8-year-old son.
Lt. Todd Gray, West Valley City Police, told Gephardt Daily the incident happened at Westcrest Mobile Home Park about 1:40 a.m., when the suspect — identified as Jeoffrey Calderon, 36 — violated a protective order by showing up at his ex-girlfriend's residence.
According to a probable cause statement filed Sunday morning in Third District Court, Calderon "began drinking alcohol and then argued with this ex-girlfriend." He became violent, putting the girlfriend and the 8-year-old boy in a "headlock," the statement said.
"The complainant's son stated he lost the ability to breathe and the complainant also said that she lost the ability to breathe and that her voice became raspy after she was choked.
"Jeoffrey continued to argue and yell at both the complainant and her son until he was told that the police were being called," according to the statement.
Police say Calderon drove off in a Chevy Blazer, only to call a short while later when he threatened to return and "kill everyone."
Officers were on scene when Calderon drove by the residence. Police gave chase, pursuing Calderon for several miles before finally performing a PIT maneuver near 2400 South 4800 West.
"The maneuver was successful," according to Lt. Gray, "except the suspect accelerated and started spinning out on his own and rolled into the ditch."
Calderon was uninjured and was taken into custody. He was booked into the Salt Lake County Jail on charges of domestic violence in the presence of a child, intentionally inflicting serious injury on a child, aggravated assault, violation of a protective order, failure to stop or respond to a command by a police officer and the threat of violence.
A review of court records by Gephardt Daily shows Calderon is no stranger to police, with multiple accusations of domestic violence involving attempted strangulations.
On September 1, 2018, Calderon was arrested in South Salt Lake by police responding to a stalker call. When officers arrived, they came upon a female who had run from her apartment "wearing a towel," according to court records. She had "sustained a black eye and a bloody nose," and told officers Calderon had "straddled her and strangled her for over an hour.
"During multiple strangulation attempts, the victim plead for Jeoffrey to stop because she couldn't breathe," the statement said. "Jeoffrey told the victim he would kill her."
The woman said she "lost consciousness for an unknown time." After waking up, "she noticed Jeoffrey was passed out next to her and holding her cell phone." She said she "was afraid to take her phone because it might wake him up." She then "grabbed a towel and ran out the front door to get help from police," the statement read.
Court records reveal another domestic assault where Calderon was involved in yet another strangulation incident with the same girlfriend.
In May 2018, South Salt Lake Police arrested Calderon for aggravated assault and commission of a domestic violence incident in the presence of a child.
"During an argument with his co-habitant girlfriend of one year, Jeoffrey Calderon strangled (the victim) with one hand," court records show. He also "threw (the victim) on the ground."
All of this occurred in front of the victim's son, investigators said.
In both of the previous domestic violence incidents Calderon faced multiple felony charges, only to have the cases dismissed when the victim did not show for trial.
"State does not have the witness/victim. Court dismisses the case without prejudice," court records said.
Calderon is currently being held on $20,000 bail.
Domestic Violence Arrest - West Valley City