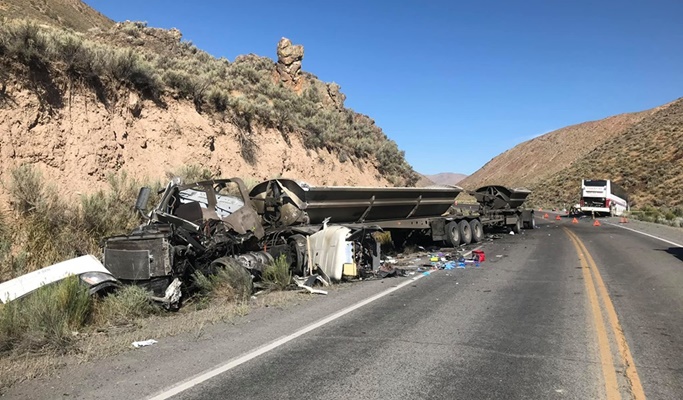 EUREKA COUNTY, Nevada, Aug. 24, 2019 (Gephardt Daily) — Two people were killed and 21 others injured — five critically — when a semitrailer and a passenger bus collided early Saturday morning in Eureka County.
A Coach USA bus carrying miners to work was hit head on by a Pilot Thomas Commercial Motor Vehicle (semitrailer) on State Route 766, near Mile Marker 3.5, about six miles north of Carlin and Interstate 80. The road leads to mines operated by the Nevada Gold Mines company, according to an article in the Elko Free Press.
The Elko County Sheriff's Office posted on Facebook that the deadly crash was reported to the Eureka County Communications Center at about 6:32 a.m.
Emergency crews responded, and all 21 bus passengers were taken to area hospitals, with five of them in critical condition. They were transported by helicopter, ground ambulance, fixed-wing aircraft, and the Elko County Major Emergency Response Vehicle.
Officials have identified the two people who died as Andrew G. Nash, 29, of Spring Creek, Nevada, who was driving the semitrailer; and Rocky D. Witt, 62, of Spring Creek, who was a passenger on the bus. Both were pronounced deceased at the scene.
The semitrailer had been southbound on SR-766, in a curve, according to a news release from the Nevada Department of Public Safety. The bus was traveling north on SR-766.
For unknown reasons, the semitrailer crossed the center line, and collided head on with the bus, the Nevada DPS release states.
The bus came to rest on its wheels, facing north, with the front end partially off the right dirt shoulder of the road. The semitrailer came to rest on its wheels, facing south on the right dirt shoulder.
Eureka County was assisted by Elko County Emergency Medical Services, Carlin Fire Department, Carlin Police Department, Nevada Highway Patrol, and Nevada Gold Mines, Mine Rescue.
The Nevada Highway Patrol is conducting the crash investigation, and the NTSB was notified of the incident because of the involvement of a passenger bus.
Gephardt Daily will update this story as more information is released.