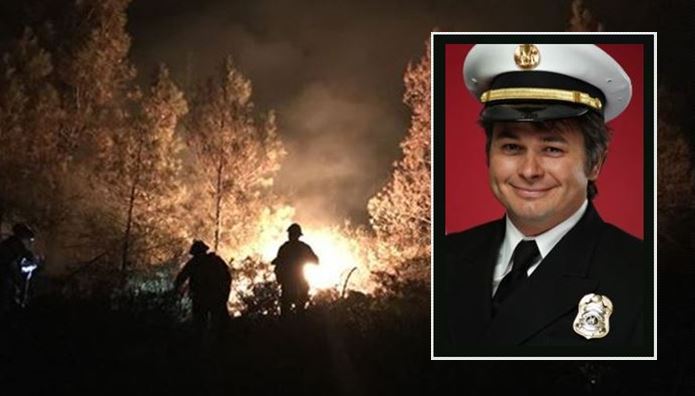 DRAPER, Utah, Aug. 15, 2018 (Gephardt Daily) — The body of Draper Battalion Chief Matthew Burchett, who lost his life while fighting the Mendocino Complex Fire in northern California, will arrive back in Utah Wednesday, officials said.
A news release from Draper City and Unified Fire Authority said California Air National Guard is transporting Burchett in a C130-J plane from the Ukiah Municipal Airport, located in the city of Ukiah, California.
Burchett was badly injured Monday night when he was hit by a falling tree. He was treated with advanced life-saving techniques at the scene, according to Draper City officials.
Within 40 minutes, Burchett was transferred to the Ukiah Valley Medical Center, where he was later declared dead.
"Chief Burchett's wife, brother and family friend are flying to Ukiah Municipal Airport on Utah Governor Gary Herbert's private plane to bring Battalion Chief Matt Burchett back home," the news release said. "The CAL FIRE Honor Guard has been guarding Matt's body 24/7 and they will be on the plane escorting Matt. Draper City Fire Department and Unified Fire Authority will send one Honor Guard each to assist at Ukiah Municipal Airport. In addition, the Utah Air National Guard will have guard members on the flight home."
The C130-J will arrive at the Utah Air National Guard Base at approximately 5:45 p.m., the news release said, and a procession will then travel from the base to a South Jordan mortuary.
The processional will be traveling along 2200 West and then to I-215. Officials have warned there may be some delays to traffic in the area.
Personnel from Draper City Fire and Police, Unified Fire Authority, Utah Highway Patrol and Unified Police Department will escort the hearse to the mortuary.
Burchett's funeral will take place Monday. Details are being finalized.
The Utah Firefighters Emerald Society is collecting donations on behalf of the family of Burchett. To donate click here.