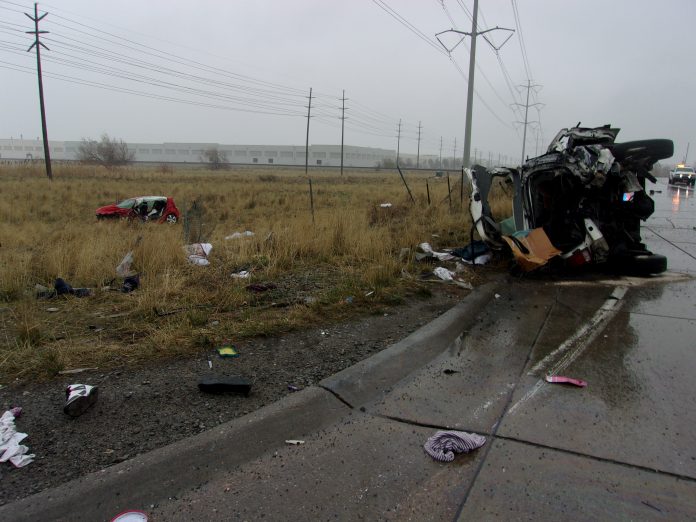 SALT LAKE COUNTY, Utah, March 26, 2018 (Gephardt Daily) — Officials have identified a 44-year-old West Valley woman who was killed in a rollover crash on Bangerter Highway at California Avenue on Sunday morning.
The deceased has been identified as Danyelle Jennings, the Utah Highway Patrol said in a news release Monday.
At about 11:40 a.m. Sunday, a white Jeep Cherokee, which may have been stolen, was heading east on California Avenue (1300 South) at the intersection of Bangerter Highway, according to the UHP news release.
"It appears the Jeep ran the red light at a high rate of speed and T-boned a red Chevrolet Sonic passenger car on the driver side," the release says.
"The Chevrolet rolled off the road toward the northeast and the Jeep spun backward striking the light pole and rolled onto its side."
When the Jeep rolled, Jennings, who was a passenger in the vehicle, was ejected and fatally injured.
Before the crash occurred, the release states, an officer with the Department of Natural Resources, Division of Wildlife, made contact with the driver of the white Jeep Cherokee regarding possible criminal activity.
According to the release, the DNR officer made contact on the frontage road near the Lee Kay Center, and the suspect fled.
The DNR officer lost sight of the Jeep as it turned from 5600 West to go east on California.
Investigators are still working to confirm whether the white Jeep Cherokee was a stolen vehicle.
The Utah Highway Patrol Major Accident Investigation Team, the State Bureau of Investigation and the Medical Examiner's Officer were all called to the scene.
To view the earlier story, click here.