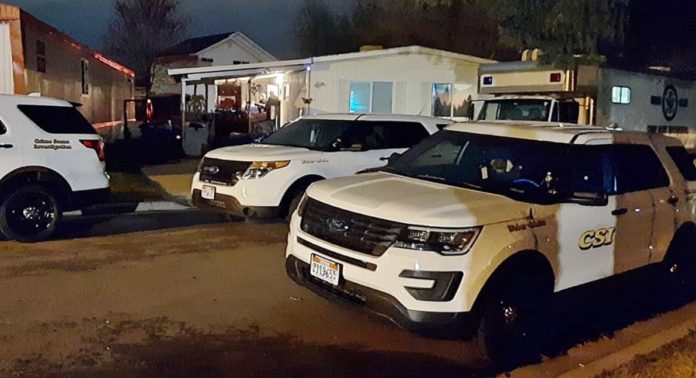 ROY, Utah, April 16, 2021 (Gephardt Daily) — The suspect in a homicide in Roy allegedly admitted to killing the victim, according to court documents.
A probable cause statement from the 2nd District Court of Weber County said the supsect, Daniel Lee Johnson, 48, is being held at Weber County Jail and is facing charges of:
Murder, a first-degree felony
Obstruction of justice, a second-degree felony
Possession of a dangerous weapon by a restricted person, a third-degree felony
Abuse or desecration of a dead human body, a third-degree felony
On April 10, the victim was killed by Johnson at a residence in Roy, the statement said.
Johnson shot and killed the victim, placed the body in a car and concealed it in an obscure place, the statement said.
"Johnson confessed to killing the victim during an interview with your affiant," the statement said. "Johnson provided false information regarding his conduct constituting an offense, and other material aspects of the investigation."
Johnson also "disturbed, moved, removed, concealed, a dead human body," the statement added. "Johnson is a current drug user who was in possession of a firearm during the commission of this crime."
Crime scene investigators from the Weber County Sheriff's Office joined Roy Police in the investigation at the Midland Community, a manufactured home park at 3860 Midland Drive in Roy.
The WCSO's Metro Crime Scene Unit was first dispatched to a residence at 4:27 p.m. Wednesday and officers spent the night processing the scene at a mobile home on C Street.
According to Roy PD, the victim, identified as Steve Bailey, 38, had been shot inside the home Saturday and taken to another location where first responders were summoned Monday to a reported cardiac arrest incident. Medical personnel quickly determined Bailey had been shot and a multi-agency homicide investigation was launched.
A motive for the homicide has yet to be divulged and officials have not said what the relationship is between the suspect and victim.
Gephardt Daily will update the story as more information is made available.