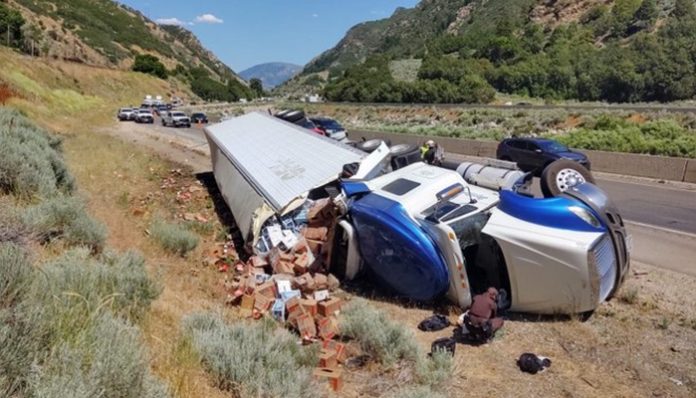 Utah, July 16, 2019 (Gephardt Daily) — The Utah Highway Patrol is investigating its second and third semi rollovers of the day Tuesday.
At 3:30 p.m., UHP tweeted troopers are on the scene of a rollover on Interstate 80 eastbound at mile marker 104 involving a double tanker carrying salt.
"Traffic is being diverted to SR-201 via SR-202," the tweet said.
A follow-up tweet at 3:50 p.m. said: "We are reopening one lane on I-80 right now. Far right lane at mile marker 105 will be closed for a bit longer."
Just after 3:30 p.m., UHP tweeted there had been another rollover on westbound I-84 at mile marker 92.
"This semi is hauling beer," the tweet said. "We have one westbound lane open, it may be subject to intermittent closures during the cleanup process."
A semi rollover on Interstate 84 in Morgan County also blocked both eastbound and westbound traffic Tuesday morning.
A tweet from Utah Highway Patrol at 8:45 a.m. said the rollover was at exit 108. The tweet said two vehicles were involved — a semi and a dump truck on the westbound side.
All three semi drivers had minor injuries which were treated on scene.
The semi on I-84 was not hauling hazardous materials and a small diesel spill has been contained, officials said.
Traffic was rerouted along the frontage road while the diesel spill was cleaned up.
Gephardt Daily will have more on this developing story as information is made available.