SALT LAKE CITY, Utah, Dec. 17, 2020 (Gephardt Daily) — A measure to provide Utah teachers and staff with bonuses for their work during the COVID-19 crisis hit a roadblock Wednesday, when Utah House Speaker Brad Wilson, R-Kaysville, moved to block payments to Salt Lake School District employees unless there is an expedited return to in-class learning.
"To receive funding for educator and school personnel stipends, a local education agency has provided in person, a combination of in-person and virtual or has been chartered to only provide virtual prior to January 19, 2021," Wilson said during a meeting of the Executive Appropriations Committee.
The motion, which was approved along partly lines, means employees in the Salt Lake City School District will be ineligible to receive the $1,500 bonuses earmarked for teachers, and the $1000 payment designated for staff, unless the District moves quickly to resume at least partial in-person learning.
The last-minute arm-twisting took Democratic committee members by surprise as they questioned the decision to punish teachers and staff for following policies dictated by SLC School District as it followed guidelines established by the Utah Department of Health.
"We are obviously penalizing teachers that have no control over a decision our elected school board has made," said State Senator Luz Escamilla, D-Salt Lake City.
Salt Lake City Mayor Erin Mendenhall was quick to echo Escamilla's comments. "This punitive provision should be removed immediately," she said in a tweet. @SLCschools teachers are among the heroes of this pandemic. When faced with the impossible, they've done their best to serve our community & have done what's been asked of them by the school board."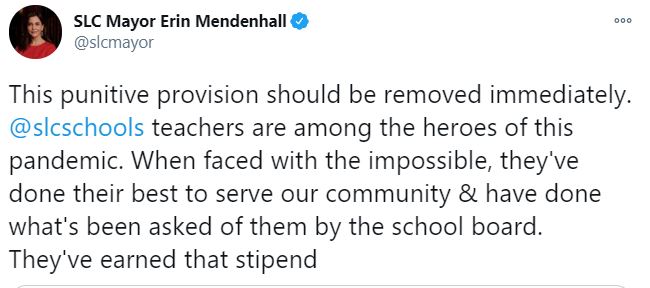 Twitter users responding to Mendenhall's message left volatile comments of their own.
"The legislature has overstepped on this. I invite @BradWilsonGOP to follow a teacher for a week to learn what it is like to teach online. We need to support ALL of our teachers and not play politics," one poster said.
"It's disgusting. It's disrespectful. And it's degrading. But then again, we see this attitude toward our educators frequently from the legislature," another poster wrote.
"This action is immoral and deplorable," said another.
"Teachers are still teaching and online is no easy task. Actually much more work than in person. Teachers have no control over schools opening," tweeted another.
"
@BradWilsonGOP,
how shameful of you! I am your constituent and am disgusted you would pull this political stunt it is disgraceful," said another.
"The cruelty IS the point," wrote another.
Governor-elect Spencer Cox, who had previously praised the $121 million dollar bonus, did not comment on the motion blocking payments to SLC School District employees.
Wilson dismissed concerns that Wednesday's legislative blindsiding singled out and punished the District for following the state's health guidelines.
"The intent of this legislation is to focus on what is in the best interest of the kids and the kids' education," Wilson said. "We've all seen with alarm how some of our students are falling behind and I would say this; Salt Lake can find ways, like other school districts have done between now and January 19 to safely do in-person instruction.":
The District had already discussed plans to return some students to at least partial in-person learning starting January 25, 2021.
Currently, Salt Lake County has the highest concentration of COVID-19 cases in the state. As of Wednesday, Salt Lake County had documented 95,917 positive coronavirus cases — about 1.6 times that of second-place Utah County, which has documented 58,955 positive cases.
And cumulative COVID deaths in Salt Lake County, as of Wednesday, numbered 487 —  more than 2.6% the death rate of second-place Utah County, which has suffered 186 deaths.
Gephardt Daily will have more on this story as it develops.