Watch the Stars of the Future Perform in Orem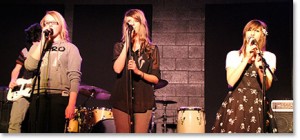 OREM, UTAH – May 12, 2015 (Gephardt Daily) – The public is invited to a free evening of theater, dance, and rock and roll, from the students of Pioneer High School for the Performing Arts at the Orem High School Auditorium on Wednesday, May 13 at 7:30 p.m.
Pioneer High School for the Performing Arts in American Fork is a tuition-free public charter school founded in 2012.  Classes include three hours every day of performing arts training from industry professionals, workshops by Broadway performers, dancers and rock stars and one-of-a-kind industry internships.
Pioneer High School theater students work under the direction of Mindy Smoot Robbins, who has performed in the touring company of "Les Miserables" as  Eponine and as Mary Poppins at Tuacahn. The dance students learn every day in a program designed and directed by Derryl Yeager, the founder and artistic director of Odyssey Dance Theater. Music students hone their chops and prepare for pro careers in a program directed by music education guru Caleb Chapman. Pioneer High School students have played Carnegie Hall as members of Chapman's programs, and have conceptualized playlists, developed Kickstarter campaigns, and run social media promotion for albums that feature Grammy-winning artists.
Robbins, artistic director of the theater academy at Pioneer High, said: "The Best of PHS is a great opportunity for prospective students to see what sets PHS apart from other schools.  Students have the opportunity to train with a wide variety of amazing teachers and professionals in the arts.  Additionally, for students who love the performing arts, it is a privilege for them to dedicate more hours each day to developing their artistic talents.  Audience members will be able to see these benefits as they watch Pioneer students in action on the stage."
Principal Sam Payne added: "The Best of PHS is our annual year-end performance, and it features the best acts that the school has produced during the year. It's a little rare these days to see a genuine variety show like this: a fantastic evening of theater, dance, and rock and roll from some of the most talented kids in the state. But that's what this is. And it's awesome. There's no place like this anywhere, and we're so proud of the opportunities these kids have to shine."
Visit www.pioneercharterschool.org or call (801) 768.8787 for more information or for tickets to the show.
You May Also Like
| | | |
| --- | --- | --- |
| El Gamma Penumbra Shadow Play Group Wows on "Asia's Got Talent" | | |