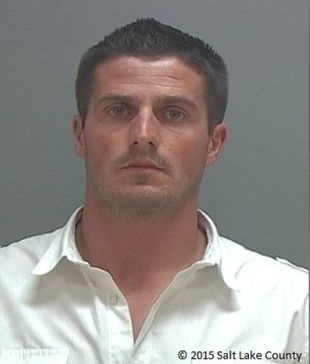 West Jordan Bank Robbery Suspect Turns Himself In
WEST JORDAN, UTAH – May 20, 2015 (Gephardt Daily) – A South Jordan man turned himself in to West Jordan Police over the weekend confessing to a robbing a West Jordan bank on Friday, May 15.
Brian Dean Powell, 30, went into the Mountain America Credit Union branch at 6761 S. Redwood Rd on Friday May 15, 2015 and handed a note to the teller saying he had a gun and demanding money. He left  in an unknown manner after receiving money from the teller.
Powell's family recognized him from the pictures put out by the West Jordan Police Department and convinced him to turn himself in. He also returned nearly all the money he was given.
Dan Roberts, spokesperson for the West Jordan Police Department said he is not the typical suspect. "He has no real prior criminal history and no drug addictions," said Roberts. Further stating "Over 95 percent of those we see that rob banks, do so to support heroin or other narcotic habits. We are not sure why he did what he did."
Powell is currently in the Salt Lake County Jail on pending 1st degree felony aggravated robbery charges. "He said he did not have a gun, however because he threatened the teller that he had one, it's the same as having one even if he didn't show it to her," said Roberts.
Powell's bail is currently set at $50,000.