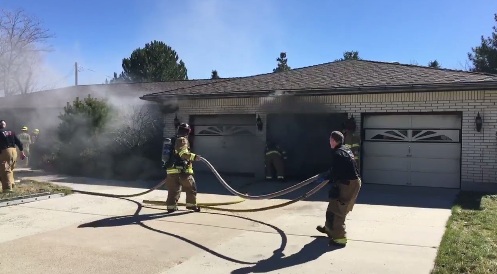 WEST VALLEY CITY, Utah, March 9, 2016 (Gephardt Daily) — A man who firefighters found dead in a burning house Wednesday afternoon in West Valley City has been identified.
William Richerson, 45, was found about 10 feet inside the door as firefighters entered the smoke-filled home. Autopsy results showed Richerson died of a self-inflicted gunshot wound.
The fire broke out at approximately 1:30 p.m. Wedsnday at a home at 3271 W. 4400 South.
Bob Fitzgerald, Battallion Chief of West Valley City Fire, said the dispatcher received an alarm notification from a home. As they were responding, dispatchers received several calls about a home that had smoke coming from it.
"When our crews arrived there was quite a bit of smoke coming from the garage and the eaves of the home, so our guys did an offensive attack where we go inside and take control of the fire," Fitzgerald said.
Investigators have determined that fire was intentionally set and are not looking for any additional suspects.
The damage to the home is estimated to be near $75,000.