New England Patriots, Kraft Will Not Appeal Decision
FOXBOROUGH, Mass., May 19 (UPI) — After taking a very sturdy stance against possible punishment from the NFL, New England Patriots owner Robert Kraft announced Tuesday that his team will "reluctantly" accept DeflateGate penalties dished out by NFL VP of football operations Troy Vincent and Commissioner Roger Goodell.
"I can try to end it or extend it," Kraft said in announcing his decision at the owners' spring meeting in San Francisco, according to the Washington Post. (It has) been an emotionally charged couple of weeks."
Goodell snatched a 2016 first round draft pick, a 2017 fourth round draft pick, and fined the Patriots $1 million. Quarterback Tom Brady was also suspended for four games. Brady and the NFL Players Association are appealing the suspension.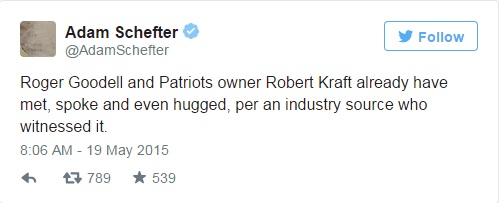 Goodell and Kraft were seen talking, and hugging, this weekend at CBS Sports chairman San McManus' birthday party.

"At no time," Kraft told the Washington Post. "should the agenda of one team outweigh the collective good of the full 32."
The NFLPA has formally asked Goodell to recuse himself to allow Brady's appeal to be heard by a neutral arbitrator.
Last week, the NFL announced that Goodell would personally hear the appeal for the four-game suspension.
"I know Patriots fans will be disappointed in that decision," Kraft told the Boston Herald. "But I hope they trust my judgment that taking this off the agenda is the best thing for the Patriots, our fans and the NFL. I hope you all can respect that."
"I made it clear after the report came out that it was not fair," Kraft told the Boston Herald. "There was no hard evidence. It was circumstantial. The discipline came out way over the top. It was unreasonable and unprecedented in my opinion."