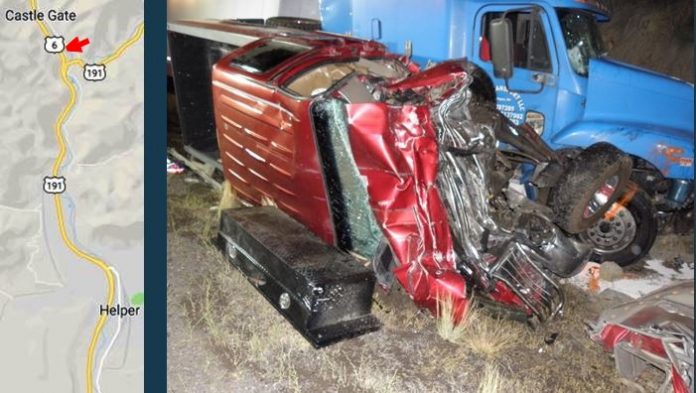 CARBON COUNTY, Utah, Sept. 13, 2019 (Gephardt Daily) — Officials have identified the victim of a fatal semi-pickup truck collision early Friday morning in Carbon County.
Killed in the crash was Baylan B. Nelson, 22, of Huntington.
The accident happened at 3:18 a.m. on State Route 6 near mile marker 226.
The semi, a blue Freightliner tractor-trailer, was westbound on SR-6 when it attempted to pass a slower semi in a no-passing zone, on a corner, a Utah Department of Public Safety statement says.
"A red Ford F-350 was eastbound and impacted the tractor-trailer in a head-on type collision,' the statement says. "The driver of the Ford died from injuries at the scene. SBI, UTIP, MCIT and the local county attorney have all been contacted and are assisting with the case."
"Charges are pending on the driver of the semi."