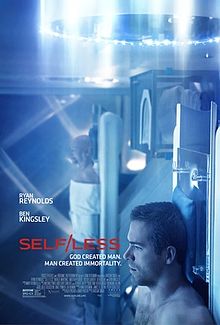 A Self/Less Featurette
June 25, 2015 (Gephardt Daily) Self/Less (or Selfless) is an American science fiction thriller film directed by Tarsem Singh and written by David and Àlex Pastor. The film stars Ryan Reynolds, Ben Kingsley, Matthew Goode and Michelle Dockery.
An extremely wealthy aristocrat (Ben Kingsley) dying from cancer, undergoes a radical medical procedure that transfers his consciousness into the body of a healthy young man (Ryan Reynolds). But all is not as it seems when he starts to uncover the mystery of the body's origin, discovering the body was not the empty flesh he was promised and had a life and family before he was used for his own body, and the "organization" that will kill to protect its cause. To make matters worse, he faces the threat of losing control of the body he now possesses and its original owner's consciousness resurfacing, which will erase his mind in the process.