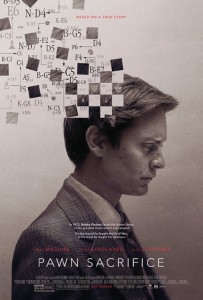 "Pawn Sacrifice"
Starring: Tobey Maguire and Liev Schreiber
Directed by: Edward Zwick
Rated PG-13
In a gripping true story set during the height of the Cold War, American chess prodigy Bobby Fischer (Tobey Maguire) finds himself caught between two superpowers when he challenges the Soviet Empire.
Also starring Liev Schreiber and Peter Sarsgaard, "Pawn Sacrifice" chronicles Fischer's terrifying struggles with genius and madness, and the rise and fall of a kid from Brooklyn who captured the imagination of the world.
"Pawn Sacrifice" isn't an action film. It is a character study. The film takes great pains to convey Fischer's descent into madness over several years. With absolutely impeccable performances by Maguire and Schreiber, the film is a study in acting methods.
However, I think most audiences will steer away from the film for just that reason. Please don't.
"Pawn Sacrifice" is an intelligent and methodical film. It gets a B+ and is rated PG-13.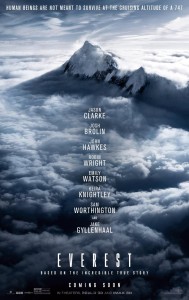 "Everest"
Starring: Jake Gyllenhaal, Keira Knightley and Jason Clarke
Directed by: Baltasar Kormakur
Rated PG-13
Based on true events, on the morning of May 10, 1996, climbers from two expeditions start their final ascent toward the summit of Mount Everest, the highest point on Earth.
On their way down Everest, a violent storm strikes the mountain, engulfing the adventurers in one of the fiercest blizzards ever recorded in that part of the world.
Challenged by the harshest conditions imaginable, the teams must endure blistering winds and freezing temperatures in an epic battle to survive against nearly impossible odds.
"Everest" needed to climb a bit higher to reach its lofty ambitions. There needed to be clearer introductions to the characters in the film and better backstory as there was no one person in the movie an audience can empathize with.
In the scenes when the storm hits, everyone is dressed the same and audiences loose track of who's doing what. I know that the producers wanted to keep the realism of the climb, but the scenes just got confusing and frustrating.
Overall the film was mildly entertaining, but couldn't pull scale over the obstacles it created for itself.
"Everest" gets a C and is rated PG-13.
"Black Mass"
Starring Johnny Depp. Joel Edgerton and Benedict Cumberbatch
Directed by: Scott Cooper
Rated R
"Black Mass" is the story of John Connolly and James "Whitey" Bulger who grew up together on the streets of South Boston.
Decades later, in the late 1970's, they would meet again. By then, Connolly was a major figure in the FBI's Boston office and Whitey had become godfather of the Irish Mob.
Connolly uses his friendship with Bulger to infiltrate the inner workings of the mob in Boston, while keeping Bulger immune from any fallout, effectively giving Bulger a free pass to commit crimes without prosecution. Also in the cast is Benedict Cumberbatch as Bulger's brother a US Senator, who steps in and out of a few scenes offering advice and distancing himself from his brother's activities.
Although the acting in the film is quite good. Johnny Depp is ferocious as "Whitey" Bulger with Joel Edgerton equally on point as John Connolly, I think the script needed better attention.
If you're a fan of "mob" movies, this one isn't quite up to par. I was looking for something deeper and more filling. "Black Mass" held it's story at arm's length never giving a real feel for either character.
What should have been another "Godfather" couldn't hold a candle to an episode of "The Sopranos."
So despite some great acting, "Black Mass" ends up so very less-than-average.
It gets a C- and is rated R.