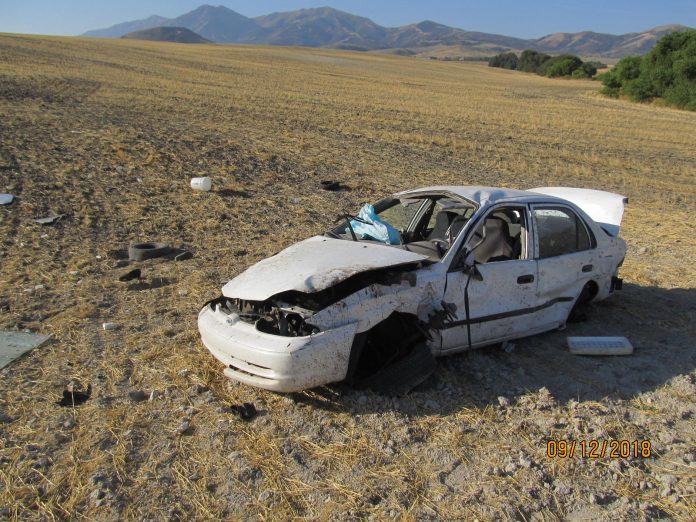 BOX ELDER COUNTY, Utah, Sept. 12, 2018 (Gephardt Daily) — A 48-year-old man is dead after a rollover crash on State Route 30 in Box Elder County in the early hours of Wednesday morning.
The deceased has been identified as William K. Atkinson, from Logan, Utah Highway Patrol officials said in a news release Wednesday.
A 2002 Chevrolet Prizm driven by Atkinson was westbound on SR-30 in the area of milepost 99, near Beaver Dam, officials said.
"The vehicle was in the outside lane and drifted off the road to the right," the news release states. "It went onto the shoulder and after the vehicle was completely off the roadway the vehicle veered back to the left. It came back onto the roadway and went across both westbound and both eastbound lanes. The vehicle went off the eastbound side of the road and down a small slope toward a field, where the vehicle rolled."
The driver, who was not wearing a seat belt, was ejected and killed, officials said. The car landed on its wheels quite some distance from the road, and was not easily visible from the roadway.
The vehicle was spotted by a semi driver who called it in at just before 8:15 a.m., but it appears that the accident occurred earlier the same day. The incident appears to be related to fatigued driving and it likely happened between 4:30 and 5:30 a.m., but was not visible until the sun was up.
"UHP is grateful for the semi driver who saw something and called it in when he did," the news release said.