SPRINGDALE, UTAH – September 16, 2015 (Gephardt Daily) — Rangers at Zion National Park have found the final missing canyoneer following Monday's flash flood in Keyhole Canyon. At this time there are seven confirmed fatalities.
The first of the victims killed in the flash flooding in Zion National Park was identified yesterday as Sgt. Steve Arthur, a 21-year law enforcement veteran from Ventura, California. The seventh victim is his wife, Linda Arthur.
Rangers received a report of a group of seven individuals canyoneering in Keyhole Canyon shortly before the area flooded on Monday, September 14. Their unoccupied vehicles were located on Monday evening and a search began the morning of Tuesday, September 15 when it was determined that these individuals had not exited the canyon. Four bodies were located while searching Keyhole Canyon and downstream.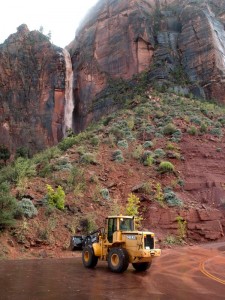 A timeline of the events is as follows:
Monday
7:40 a.m. Group of seven picked up their canyoneering permit for Keyhole Canyon.
2:22 p.m. The area came under a flash flood warning from the National Weather Service. The warning was publicized through several media sources and posted in all of the park's contact stations. Canyons were closed to canyoneering.
4:30 to 5:30 p.m. Zion Canyon received 0.63 inches of rain in less than one hour. Rangers noted Keyhole Canyon and several other canyons began to flash flood. The flow of the North Fork of the Virgin River rose abruptly from 55 Cubic Feet per Second (CFS) to 2,630 CFS in 15 minutes. The park receives levels this high approximately once every three years.
5:30 p.m. Another canyoneering group who had been through Keyhole Canyon just before the flood reported to park rangers that they had passed a group of seven canyoneers and believed that they may have been caught in the flood. Rangers located the group's vehicles, but did not see any sign of the group. Keyhole Canyon was already flash flooding. Due to weather at the time and through the evening, it was determined that rescue operations could not be safely initiated.
9 p.m. Park rangers rechecked on the canyoneers. There was still no sign of the group.
Tuesday
7 a.m. The search began. Because of the weather, Keyhole Canyon was still inaccessible to Search and Rescue crews, but they were able to follow its course and glimpse in it at several locations. There was no response to verbal calls. The search continued downstream into Clear Creek.
1:30 p.m. One body was located.
2:30 p.m. A private canyoneering group went through Keyhole Canyon and reported one body inside.
4 p.m. The search was continued in Clear Creek, Pine Creek and the Virgin River. A third body was located.
5:15 p.m. A fourth body was discovered
Wednesday
Fifth and sixth body discovered
Thursday
11 a.m. Final body found