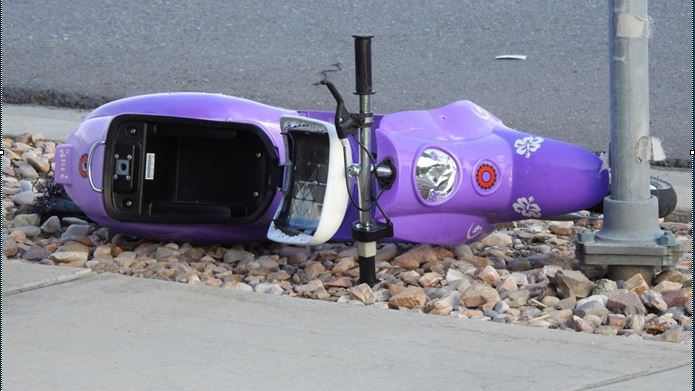 RIVERTON, Utah, July 13, 2018 (Gephardt Daily) — A 7-year-old boy was transported to the hospital in extremely critical condition Friday evening after he rode a motor scooter into traffic at 12600 South and 2700 West and was struck by an H3 Hummer.
Salt Lake County Sheriff Rosie Rivera said the incident happened at about 5:30 p.m. when the child, who was riding the motorized scooter southbound on the sidewalk along 2700 West, rode into the intersection against the light.
The SUV was in the turning lane in the process of turning west when it struck the boy.
Rivera said the child was LifeFlighted to Primary Children's Medical Center in extremely critical condition.
Police put out a "reverse 911" call to area residents in an effort to find and notify the child's parents. Rivera said it took about an hour to locate the boy's mother, and she is now at the hospital with her son.
The driver of the Hummer remained on scene and was fully cooperative with police.
The crash analysis reconstruction team (CART) was sent out, and Rivera said the roads would be closed "for a few hours" as the investigation into the accident continued.
She said a lot of people witnessed the incident and were being interviewed by officials. The witnesses told police the driver of the SUV had no time to stop before hitting the child, Rivera said; however, she reminded reporters that the accident is still under investigation. Likewise, she could not comment on whether any charges would be filed.
Commenting on how difficult the situation is for everyone involved, Rivera said:
"We don't want to judge what went on here … but we can try to prevent it from happening again. What I would say is, make sure if you're going to have your kids on scooters and skateboards and rollerblades, just make sure they understand they can't go into traffic. A car is so much larger than anything the child is riding."
Rivera went on to say that drivers in general need to be more alert and cautious, especially when there are police cars and officers at the scene of an incident.
Just a few minutes earlier, she said, a driver who was on a cellphone drove right into the blocked-off intersection and nearly hit an officer who was standing there, directing cars away from the area.
As Rivera was saying this, another inattentive driver entered the blocked-off intersection — and was promptly ticketed.
Gephardt Daily will update this story as more information is made available.