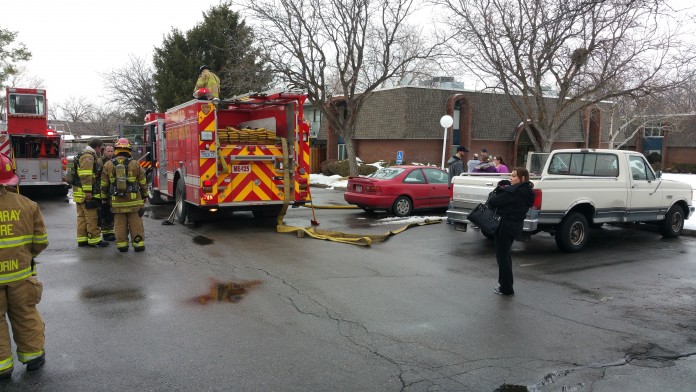 MURRAY, Utah, Jan. 6, 2016 (Gephardt Daily) — Crews rescued a dog from a fire at a Murray condo, officials said.
Murray City Fire Department and Unified Fire responded to the blaze at 54 W. Lester Ave. (6790 South) around 1:30 p.m. Murray City Fire Captain David Florin said the fire was contained to a bedroom, which made it easier to extinguish. Florin said the 2-year-old dog—a boxer—was in the room. It was given oxygen at the scene and is doing well.
Crews were called out when the resident came home, opened the door to the condo, heard the smoke alarm going off and saw smoke. Florin said the resident then closed the door, went outside and called 911. He said the fact that the door was rapidly closed helped limit damage because once air is introduced, the fire will spread quicker, whereas if it is oxygen-deprived it will slow down.
Florin said there were no other injuries. Investigators were looking into the cause of the blaze. A space heater is one possible cause being investigated.
Four or five units had their utilities shut down while crews dealt with the blaze, but they will be restored by Wednesday evening.
Florin warned residents to always unplug space heaters when they are not being used because of the amount of current that goes through the wiring itself.