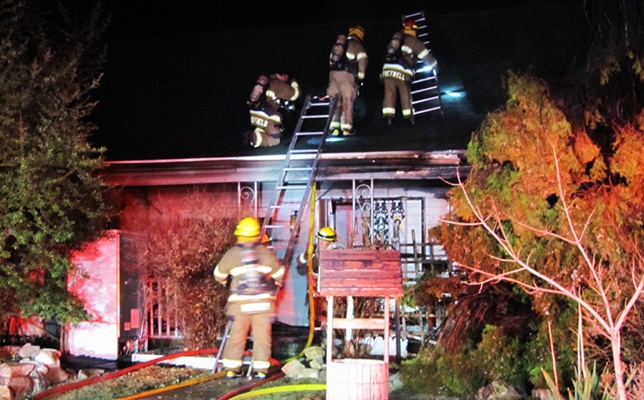 OGDEN, Utah, Nov. 24, 2019 (Gephardt Daily) — Fire crews responded to a structure fire on Monroe Boulevard early Sunday.
Firefighters were dispatched at 12:10 a.m. and arrived to find smoke and flames coming from the front porch of a single-family home at 2029 Monroe Blvd. (800 East)
According to an Ogden Fire Department news release, "Bystanders reported that the fire started in the grass and a tree in the front yard."
Three residents were already safely out of the house when firefighters arrived, and neighbors watched from front yards as the lights from multiple firetrucks lit up the street.
Crews immediately went into "offensive mode," pouring water on the flames and gaining access to the attic to determine the path of the fire and keep it from spreading throughout the structure and to nearby homes in this older Ogden neighborhood.
The fire was quickly brought under control, and crews began ventilating the house and checking the attic for hot spots. The fire was contained to the front of the home and the attic.
Shortly after 1 a.m., Ogden Fire Department reported that the fire was out, and crews were being released from the scene.
The cause of the fire is still under investigation. Damage is estimated at $30,000.
No one was injured in this fire. Three people have been displaced.
Twenty-one firefighters from Ogden City and South Ogden City responded with three ladder trucks, two fire engines, one paramedic rescue, one ambulance, one Battalion Chief and one Deputy Fire Marshal.